A Picky Eater's Guide to Dining on Carnival's Mardi Gras
Picky eaters. There's one in every family. Whether the picky eater is your child, your spouse, your friend, or maybe it's you — there's plenty of dining options available on the new Mardi Gras sailing from Port Canaveral.
From chicken fingers and fries to pizza and panini pressed sandwiches, you won't go hungry on this ship. For the non-adventurous eaters, here's the scoop on where and what to eat on Carnival's newest ship Mardi Gras.
Big Chicken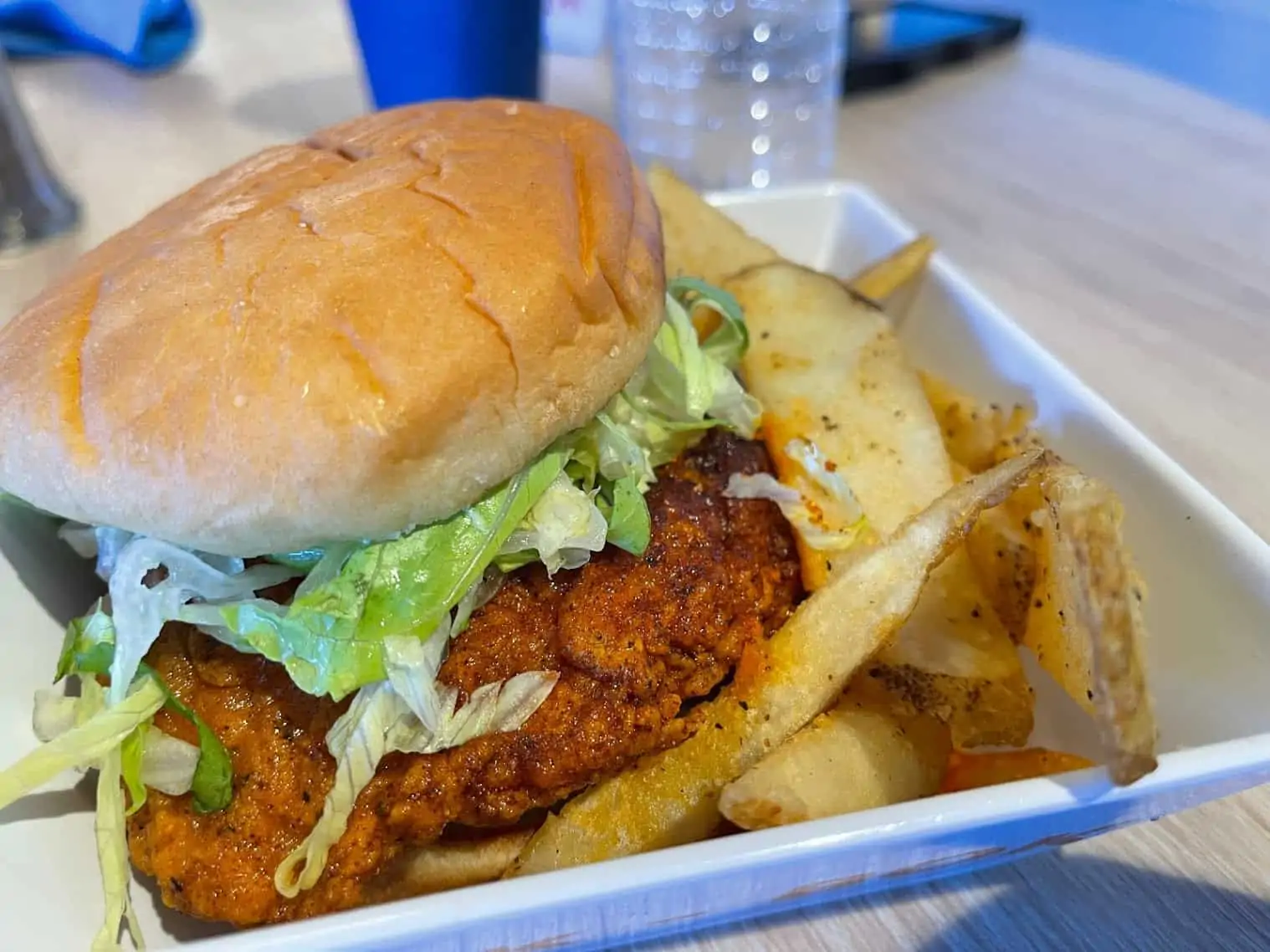 Located on Deck 16 Aft, Shaq's Big Chicken restaurant is a picky eater's dream come true. Here, you can enjoy chicken strips, juicy chicken sandwiches, and plenty of French fries! The M.D.E. sandwich (Most Dominant Ever) comes with Shaq sauce and pickles.
Don't be afraid to ask for it plain, they'll take care of you. In addition to steak fries, other sides include potato salad, housemade sweet and spicy pickles, and jalapeño slaw – you'll find those on the toppings bar if you want to leave them for more adventurous eaters.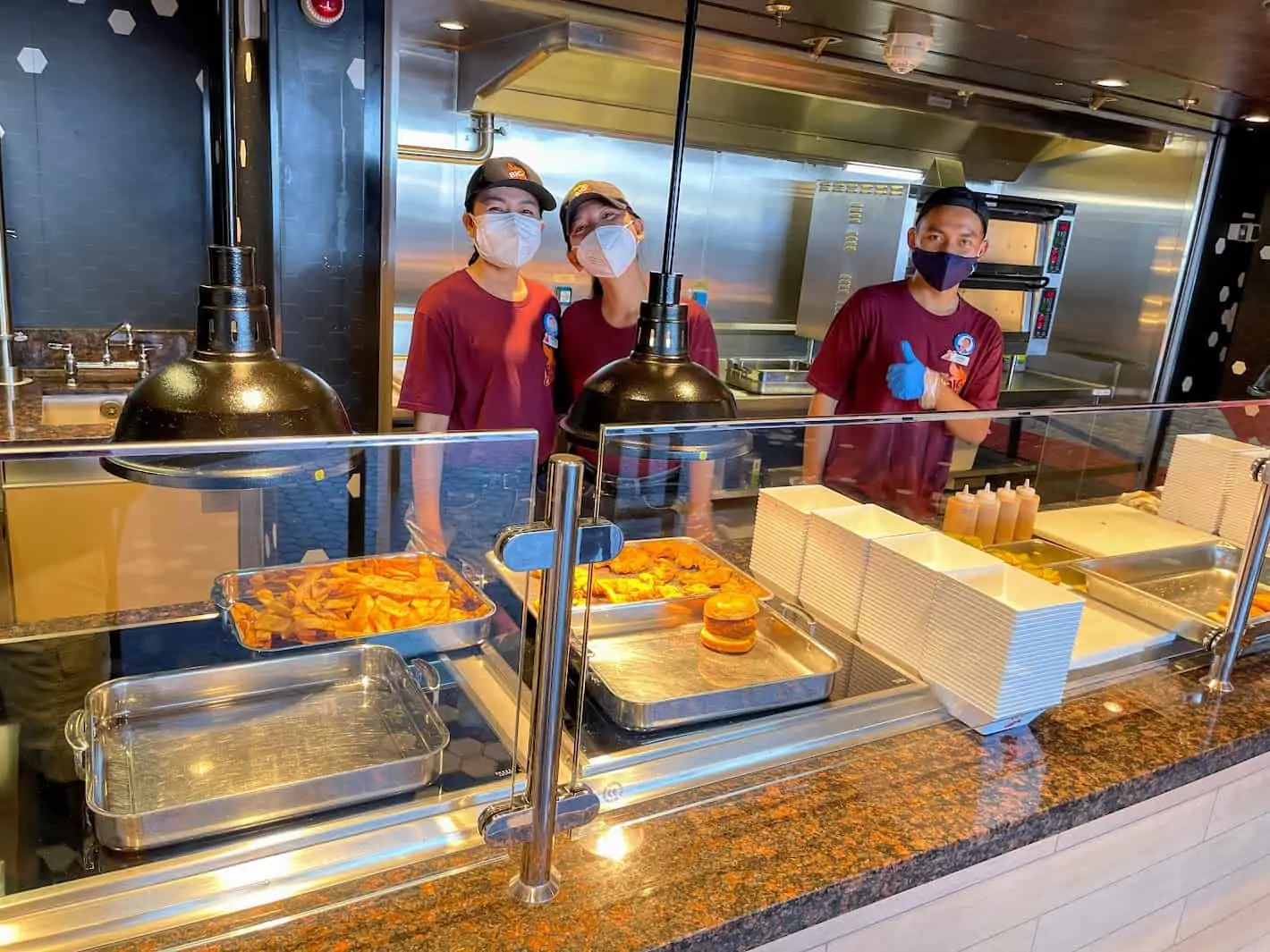 If you are a sauce person, don't miss trying the Shaq sauce — a combination of smoky barbecue and buttermilk ranch. Delicious! Other sauces include honey mustard, buttermilk ranch, barbecue, and buffalo hot sauce. As the restaurant sign says — "we encourage sauciness." 
Don't miss breakfast at Big Chicken, where you can choose from a chicken biscuit with a chili honey glaze syrup (or without!), a three-cheese omelet, or a biscuit and egg with sausage or bacon. And don't worry if you aren't an early riser, breakfast at Big Chicken is served until 3 p.m. daily.
Street Eats – Time Fries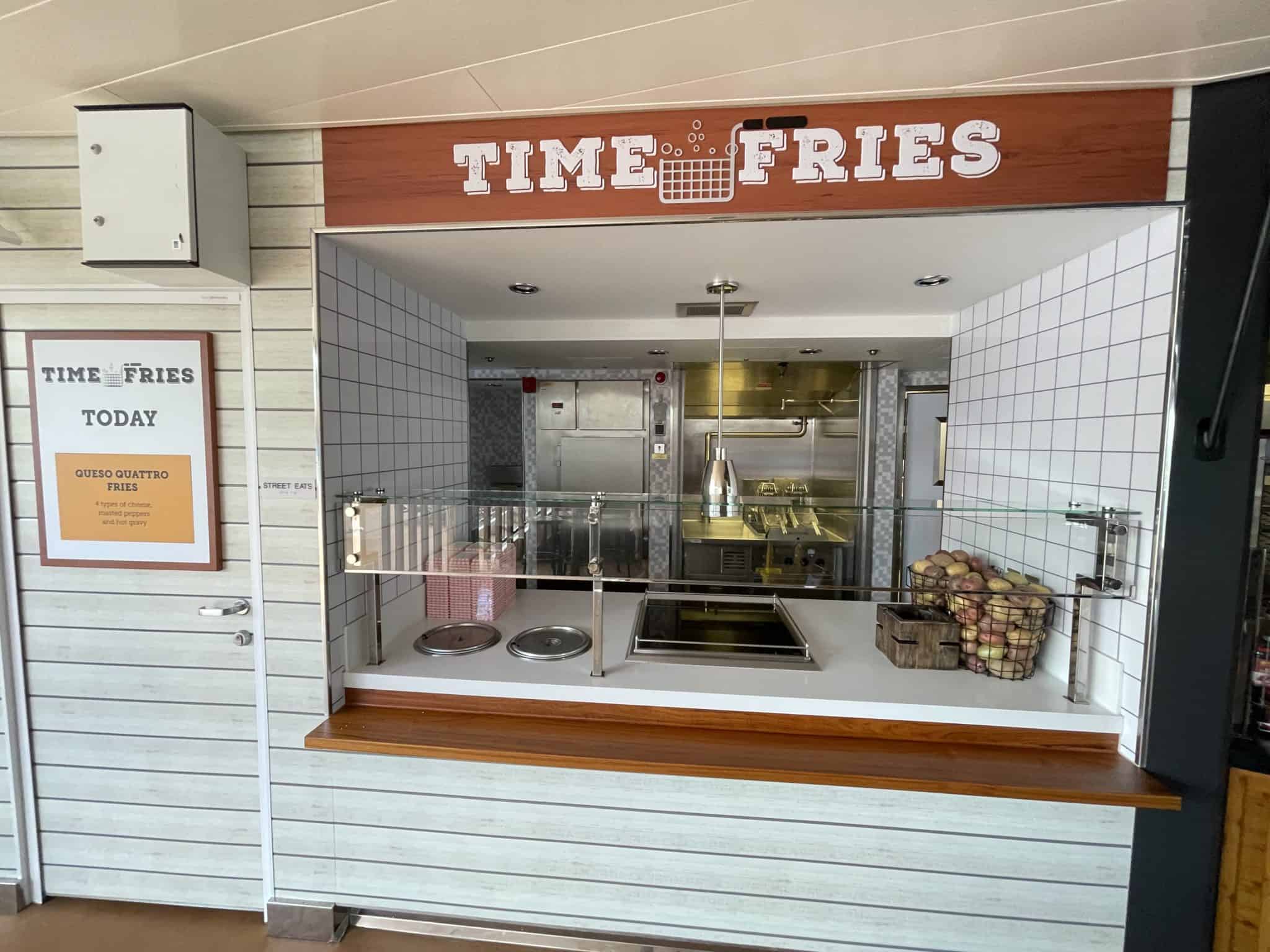 Street Eats is a new concept for Carnival Cruise Line. Located on Lido Deck 16, Street Eats is a nod to food trucks and street eateries with three stations – Steam Dream, Mad Sizzle, and Time Fries.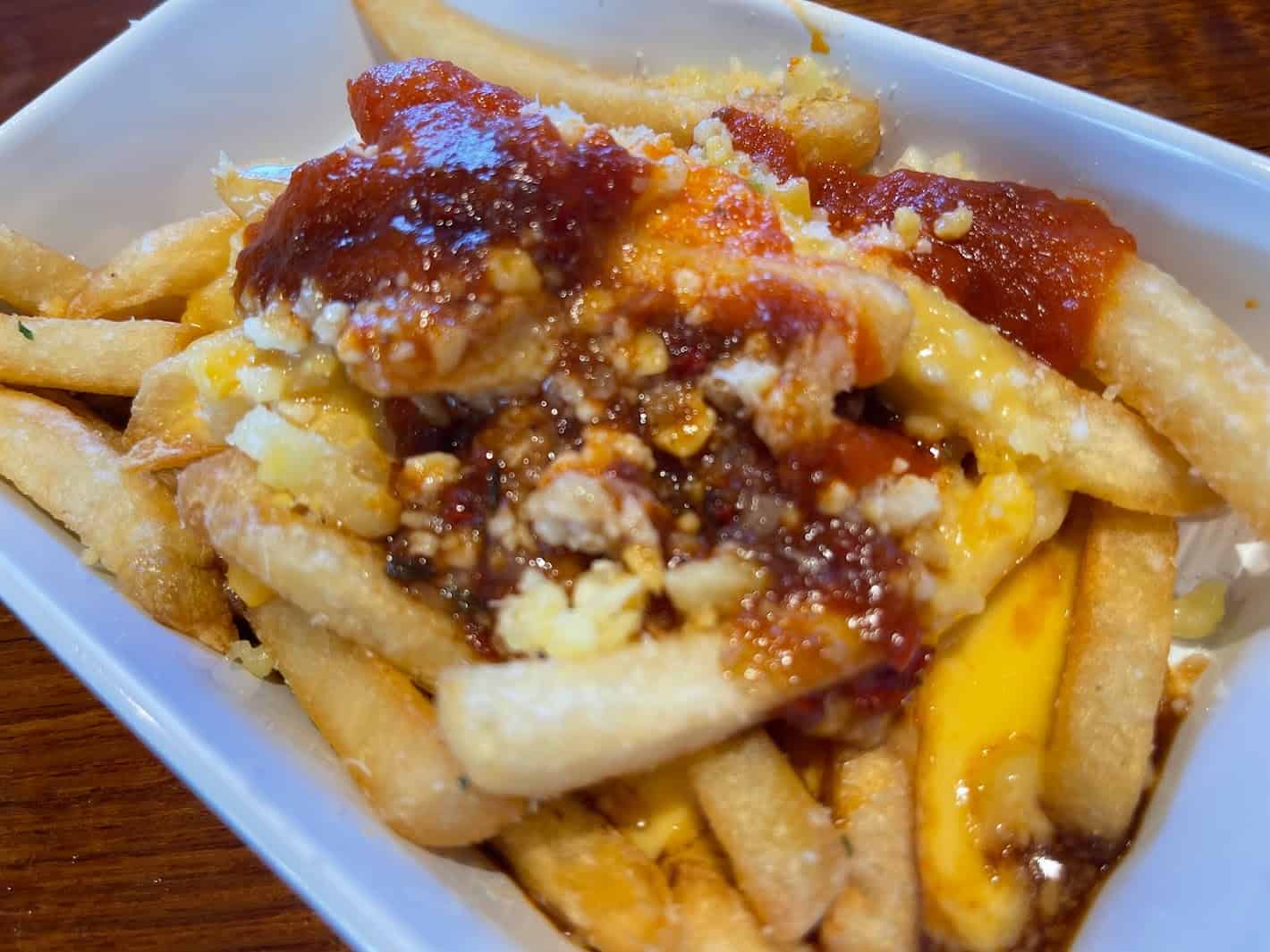 With a menu that changes daily, the first two stations feature international cuisines while Time Fries features French Fries prepared in new, exciting ways.
Philly Cheesesteak fries are a big hit with grilled onions, melted cheese, and sliced steak on top. Stop by each day to try the new dishes as it is open daily from 11 a.m. to 3 p.m.
Pizzeria Del Capitano
Picky eaters can rejoice knowing that pizza is available on the Mardi Gras 24/7. Pizzeria del Capitano is located in the La Piazza neighborhood of the ship, Middeck 8, and offers various pizzas, including a Margherita pie, a Pepperoni pizza, and a Prosciutto, and even a Quattro Formaggi featuring four different kinds of cheese.
If you're looking to go the healthier route, they offer Caesar salads too!
MORE: Review: Riding BOLT, the First Roller Coaster on a Cruise Ship
Piazza Panini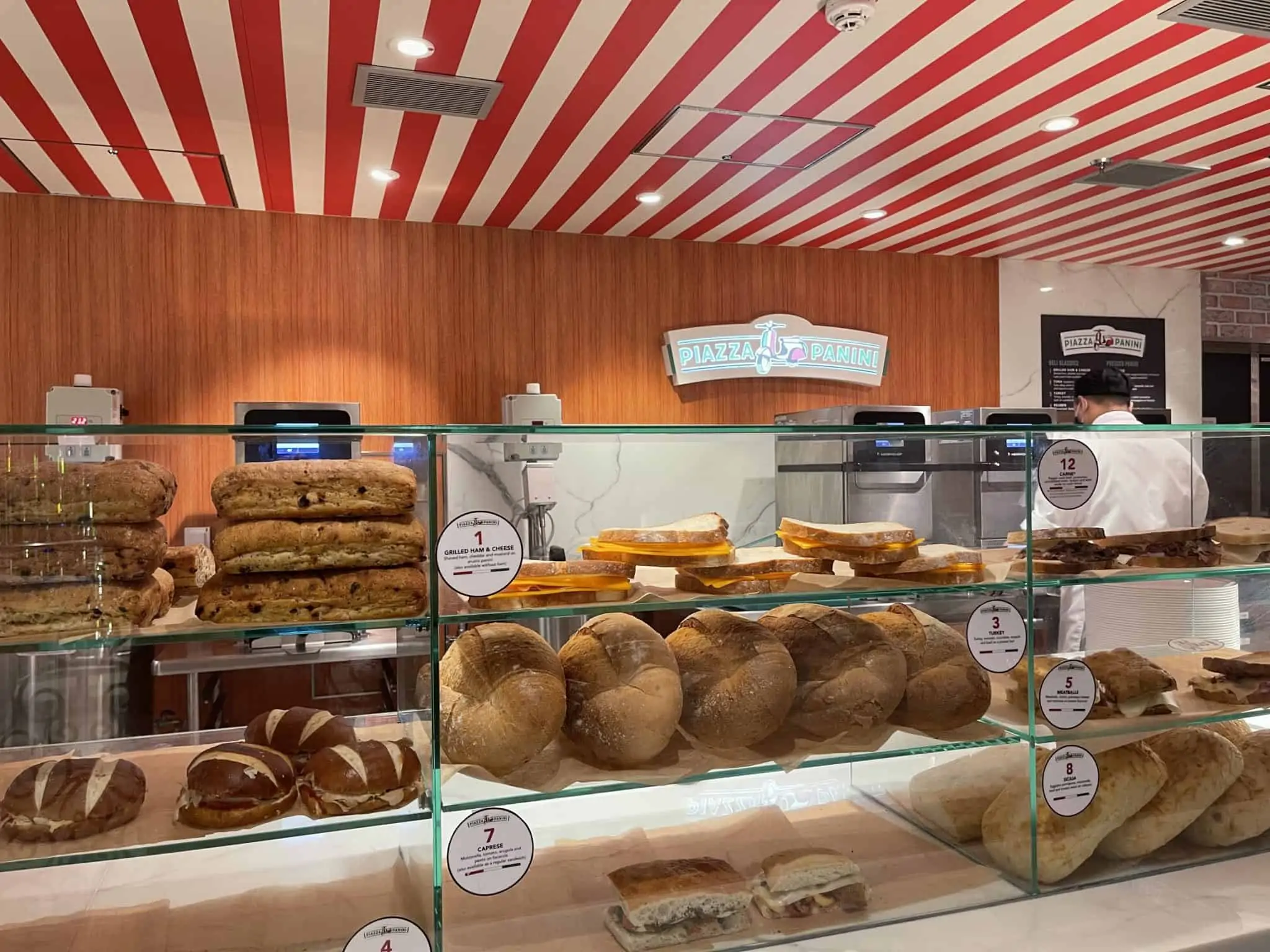 Located next to the Pizzeria Del Capitano, you'll find the new counter-service sandwich shop Piazza Panini. Here, you'll find deli classics like hot dogs with all the fixings (or no fixings for the extra picky eaters), grilled ham and cheese, and meatball subs all offered on a variety of breads.
For an Italian spin on paninis, choose from a Caprese panini, a Carne panini with pepper roast beef, and other favorites.
Open 24 hours a day, this hotspot also features desserts after 8 pm – panini style! Choose from toppings like Nutella, bananas, honey, chocolate chips, and other treats.
Main Dining Room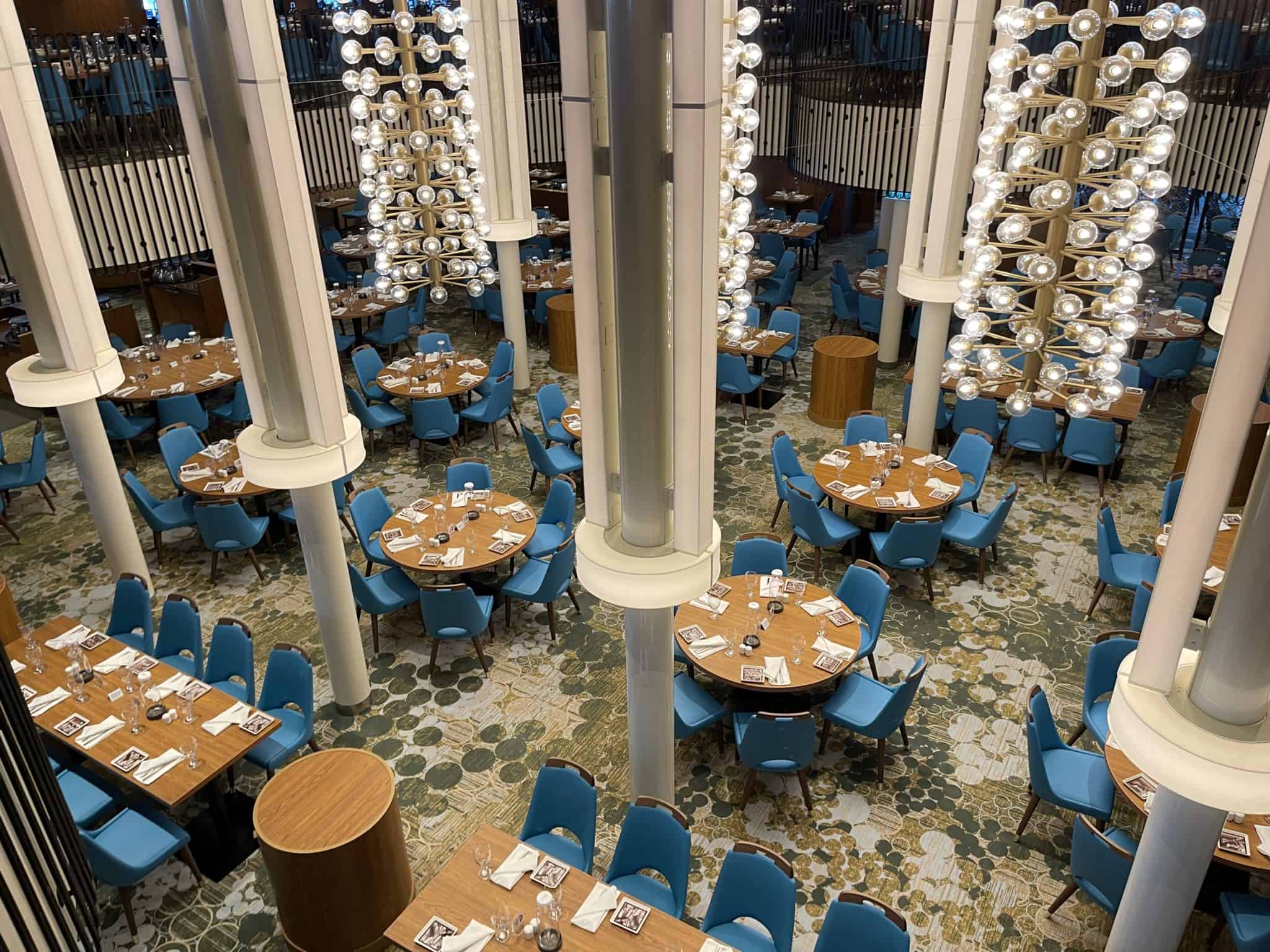 Picky eaters, you are in luck when it comes to eating in the Main Dining Room. While the menu changes daily, you can always count on the "From the Grill" section, where you'll always find a simple version of chicken breast, a pork chop, a flat iron steak, and salmon.
READ: Ultimate Guide to Carnival's Main Dining Room
Plus, here's a bonus tip for picky eaters: You can order from the kids' menu, including desserts!
While it may be a smaller portion of food, you'll find spaghetti and meatballs, hot dogs, pizza, chicken nuggets, French fries, and for dessert – banana splits and brownies!
24-Hour Room Service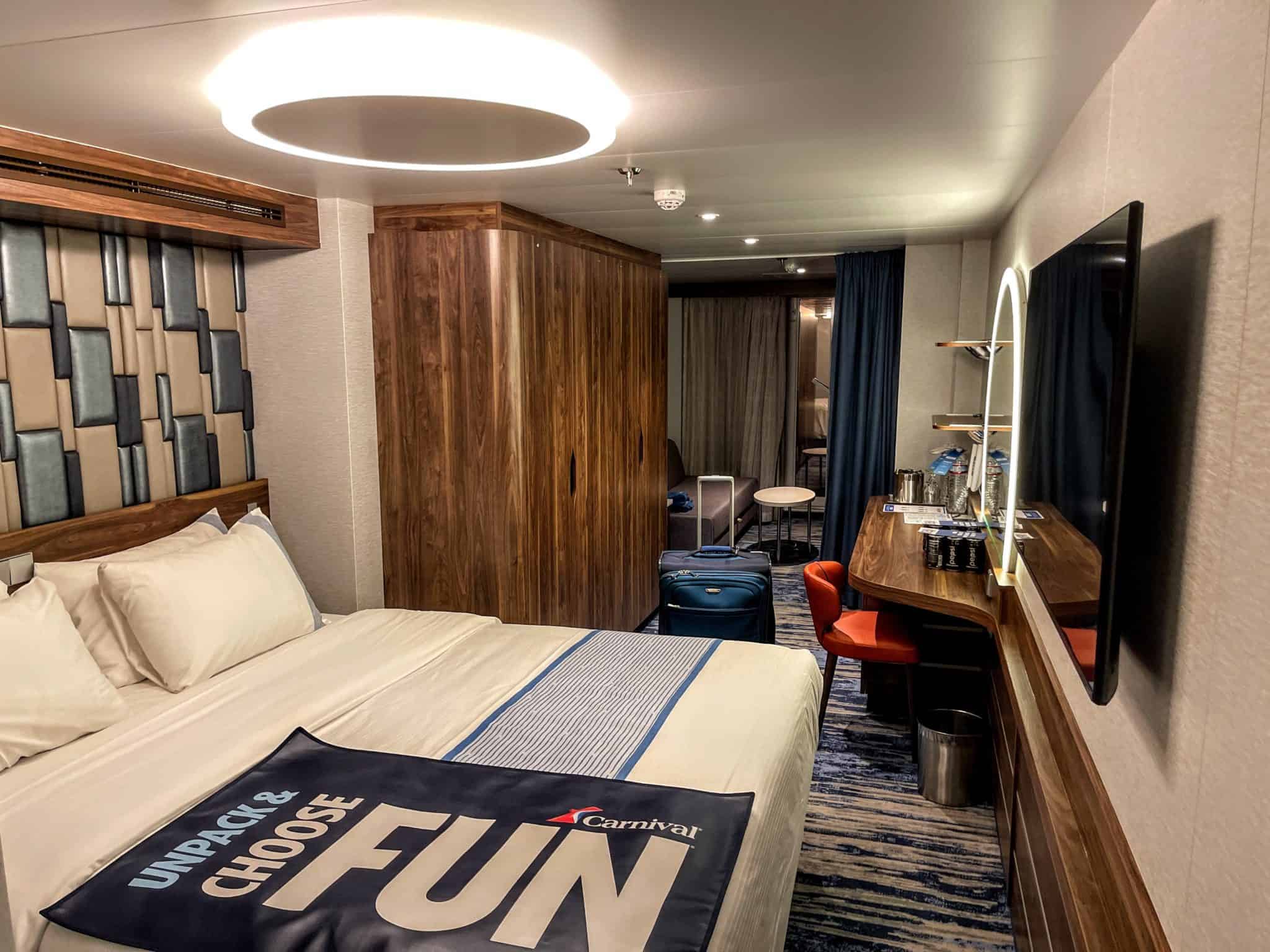 Don't feel like leaving the room to eat? No worries! Pick up the phone and dial-up room service where you can choose from favorites like peanut butter and jelly sandwiches, potato chips, turkey sandwiches, and even chocolate cake.
Specialty items like French fries, chicken wings, pan pizzas, and chicken quesadillas come with a fee, but are still worth the extra cost.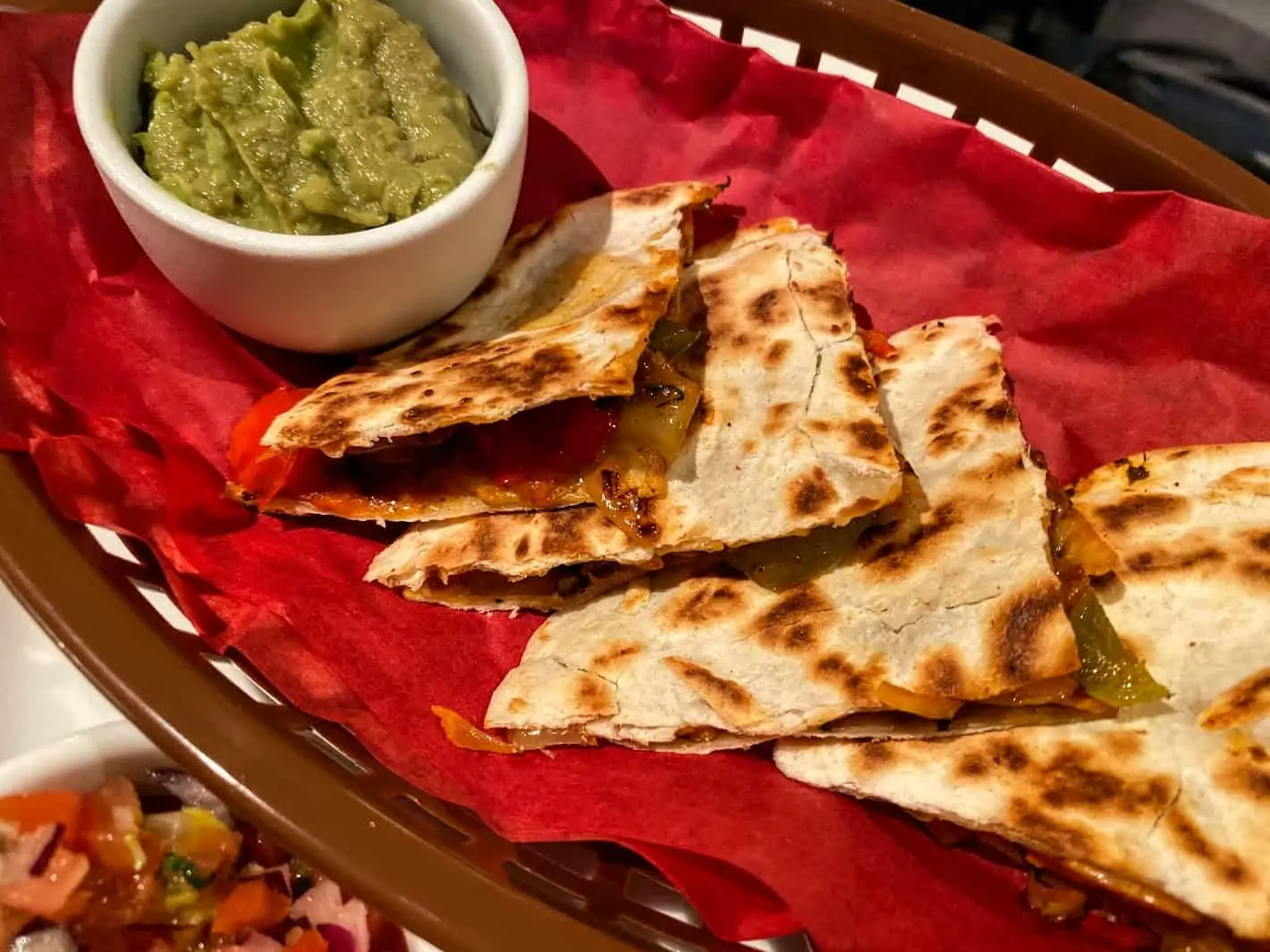 The late-night menu begins at 10 p.m. and also includes additional charges with items like Philly cheesesteaks, chicken tenders, turkey wraps, and more.
Breakfast items can also be delivered right to your door each morning with a menu featuring pastries, an assortment of cereals, fresh fruits, and bagels.
Cucina Del Capitano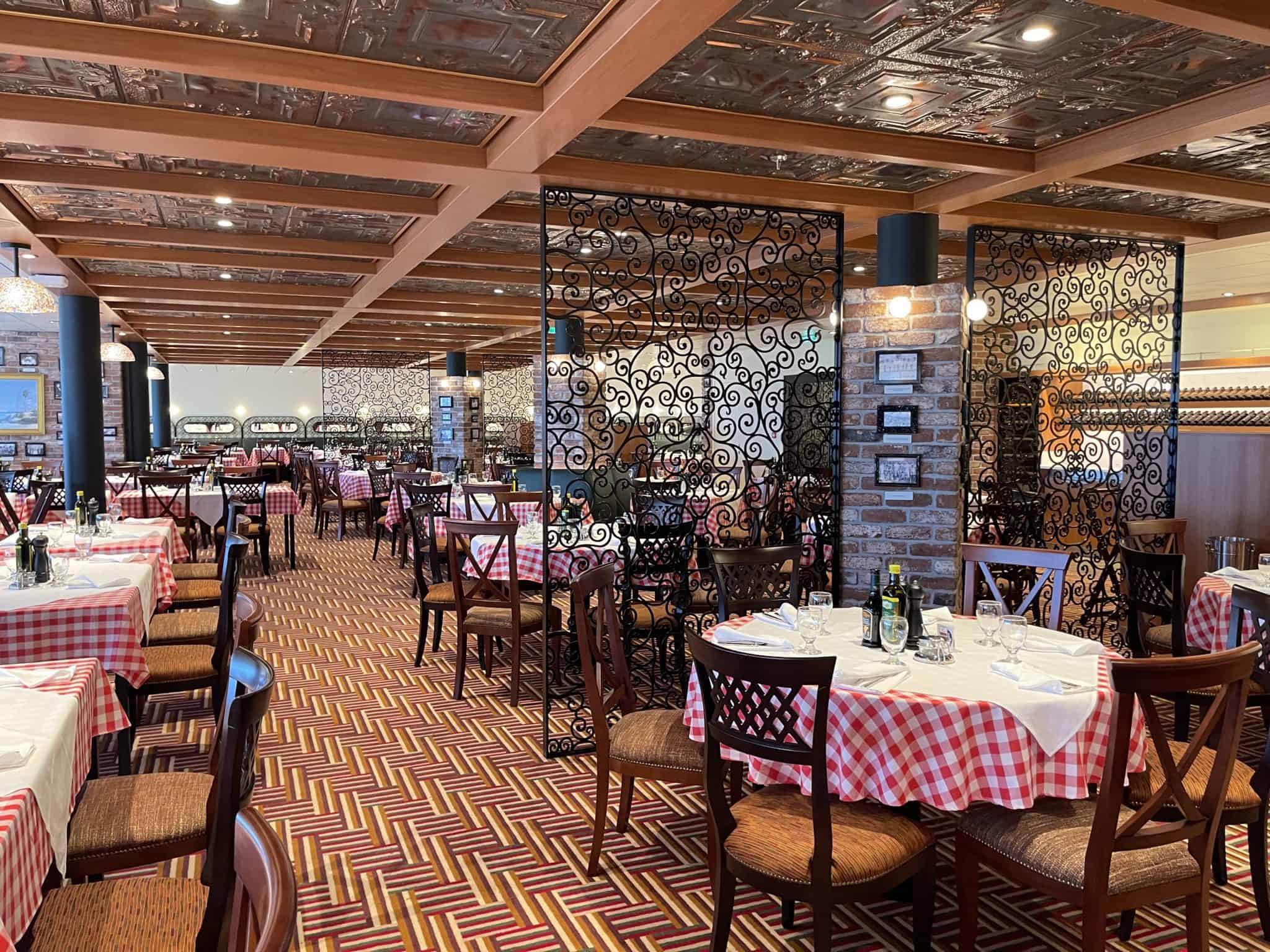 Italian eats are the focus at Cucina Del Capitano on the Mardi Gras. For those that might be scared by the entrée menu, have no fear – spaghetti with an enormous meatball and chicken parmesan are both on the menu.
If you're hoping to dine on a certain day or time, make sure you book a reservation using the HUB app or stop by the restaurant in advance.
Bonus: At lunchtime, you'll find a complimentary pasta bar at Cucina del Capitano known as The Captain's Pasta Bar. Choose your type of pasta, choose your sauce, and decide if you want any toppings included in your dish and before you know it, you've got a delicious meal.
Fahrenheit 555 Steakhouse
At Fahrenheit 555 Steakhouse, diners can enjoy a superb experience with a menu featuring steaks, lamb chops, lobster, and fantastic service. For sides, you'll find macaroni and cheese, baked potatoes, and even onion rings to complement your entrée.
Don't miss the steakhouse's signature dessert called 'Art At Your Table,' where your server creates a table-side masterpiece of art – all made of food.
You can pick your way around the table to sample chocolates, fruits, and more. If you aren't feeling adventurous (or maybe you're just too full!), fresh fruit is also on the dessert menu with a variety of melons and berries.
If you are interested in dining at the steakhouse, be sure and get a reservation – they tend to book up quickly!
Guy's Burger Joint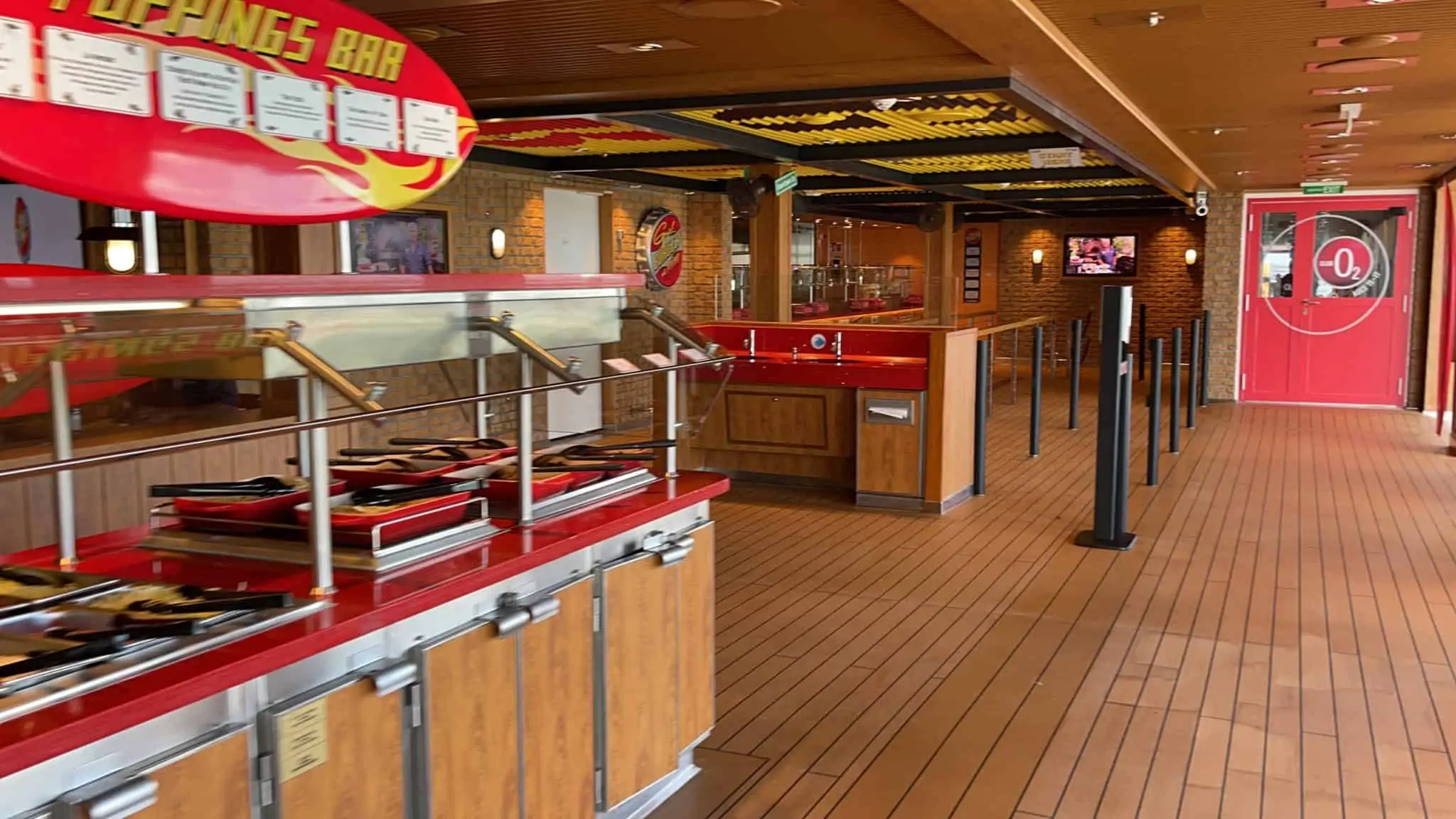 The popular Guy's Burger Joint has a larger, dedicated space onboard the Mardi Gras and fans can experience these great burgers midship on Lido Deck 16.
For the picky eaters, you'll probably want to order the Plain Jane with or without cheese. If you want bacon, go with the 'Pig Patty.' If you want an onion ring on top, they can do that too! From there, make your way over to Guy's toppings bar and load up on customizing your burger. And don't forget the hand-cut fries!
Guy's Pig & Anchor Smokehouse | Brewhouse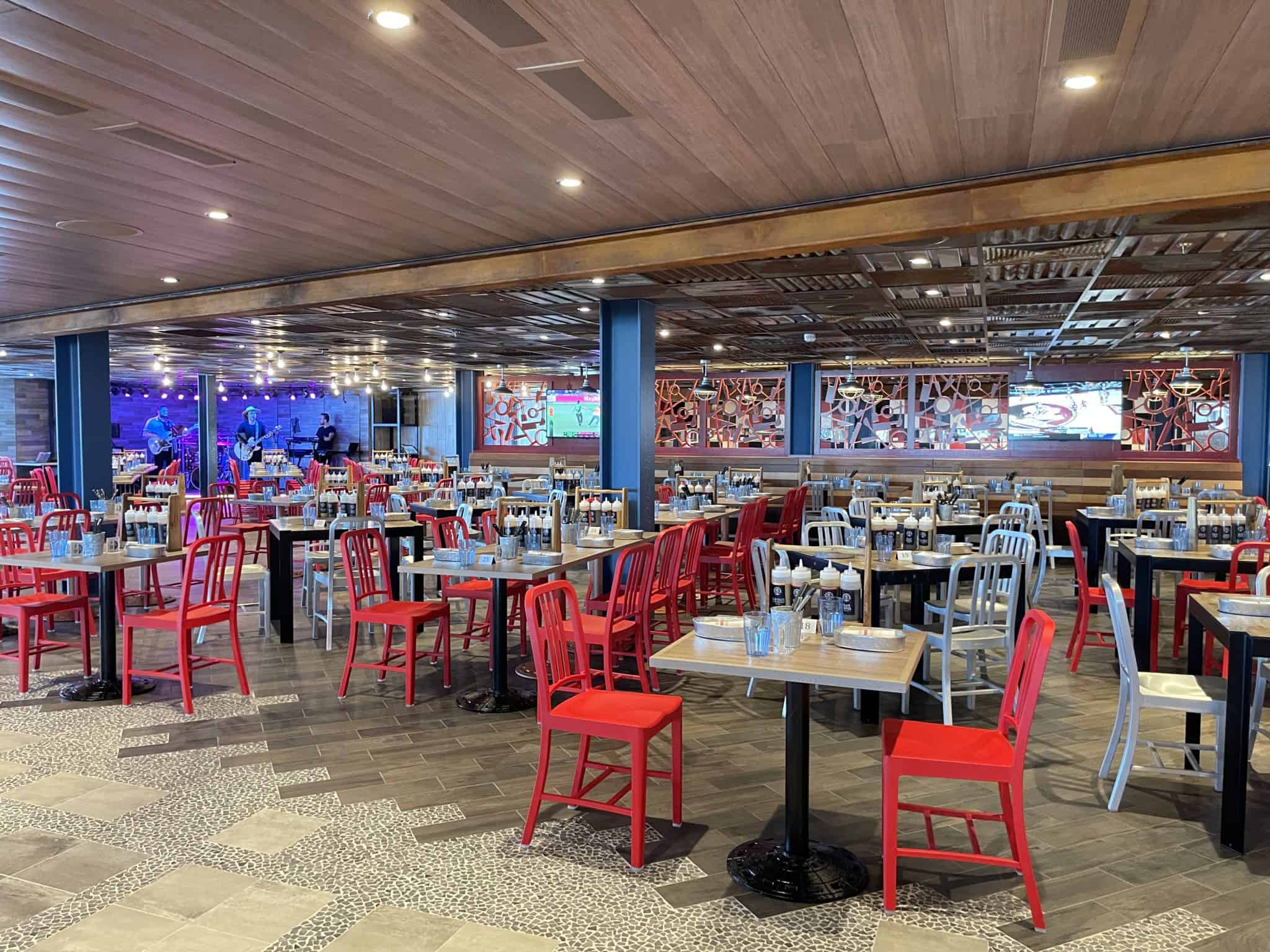 Speaking of Guy Fieri, barbecue fans will be excited to learn that dining at Guy's Pig & Anchor Smokehouse | Brewhouse is now included – there's currently no additional fee onboard Mardi Gras.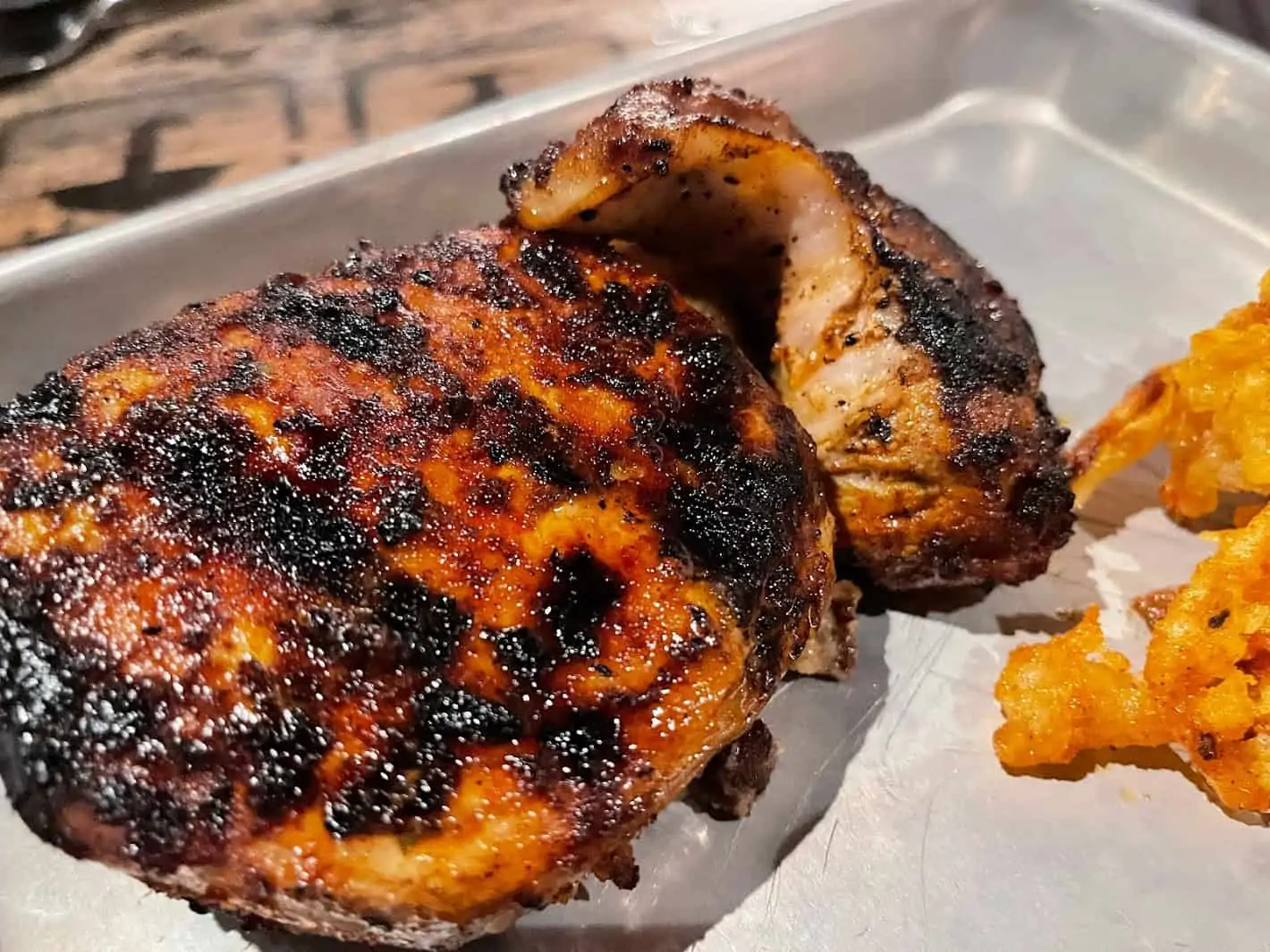 Try popular items like the Championship Pulled Pork or the Blue Ribbon Chicken, pair it with mac and cheese, and top off your meal with some apple cobbler or a slice of banana cream pie.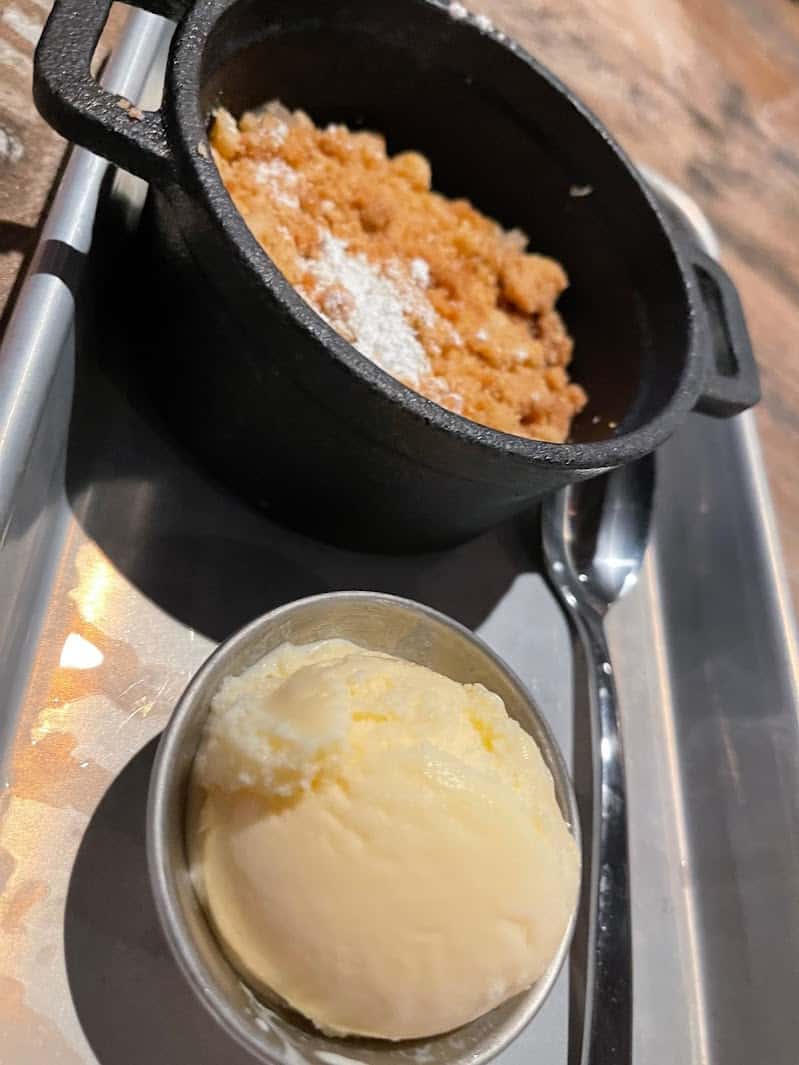 So, whether you decide to step outside of your culinary box and try new foods or stick with what you know when it comes to dining, you'll stay full and always have plenty of food options on Mardi Gras.
What are you excited to eat onboard Carnival's newest ship?
READ NEXT: Mardi Gras Dining Guide: Which Restaurants Are Complimentary?
Pin it!