Wish You Were Here: Christmas On Board Carnival's Mardi Gras
When you cruise in December, it's pretty much a given that you're going to be enveloped in the Christmas spirit… whether you want to be or not!
During our recent voyage on Carnival's flagship, the Mardi Gras, it was clear that a whole team of elves had jumped down from their shelves long enough to decorate the ship from bow to stern. And while they were at it, they arranged a slew of festive events, from trivia to Bingo. Basically, any form of cruise entertainment you can think of, there was a holiday-themed version to be found on Mardi Gras!
Whether you're looking for tips on how to festoon your home, dreaming about hitting the high seas for the holidays, or simply want to see some pretty pics, you've come to the right place.
We're going to take you on a whirlwind tour of Mardi Gras featuring some of our favorite seasonal decor.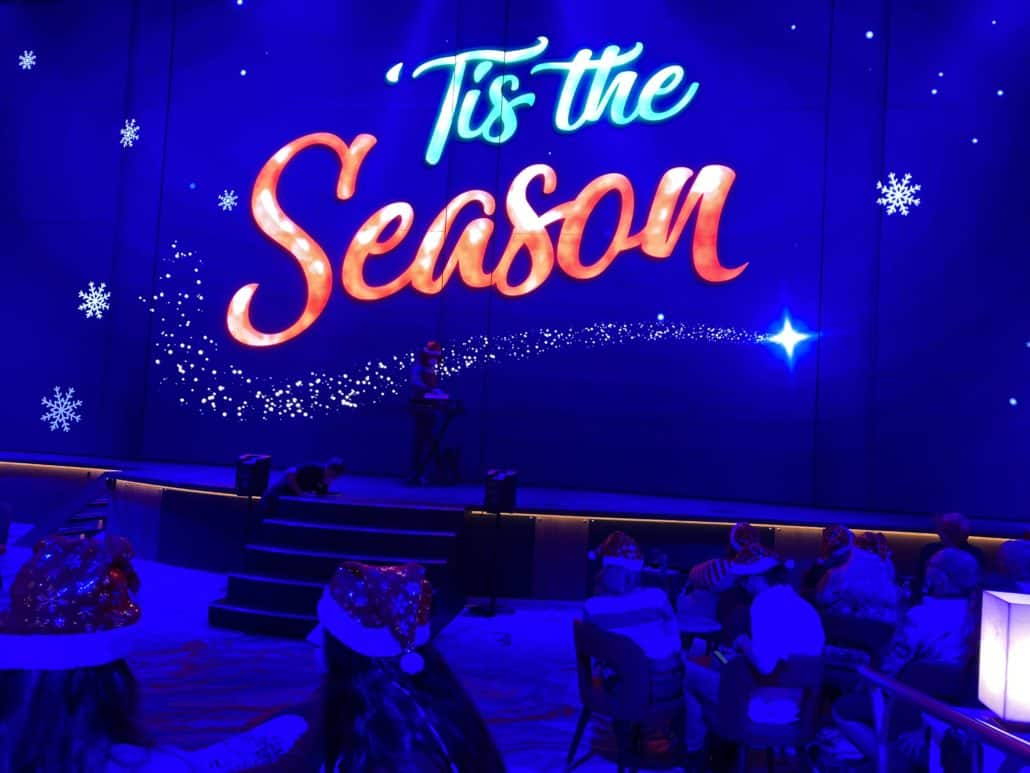 Pretty much everywhere you look, Mardi Gras' halls have been decked… including in the atrium, where the three-story tall screens are put to great use during a special holiday-themed show called — what else? — Tis The Season.
If this all-singing, all-dancing, all-Christmasy show doesn't get you in the spirit… well, just wander around the ship! Because pretty much wherever you go…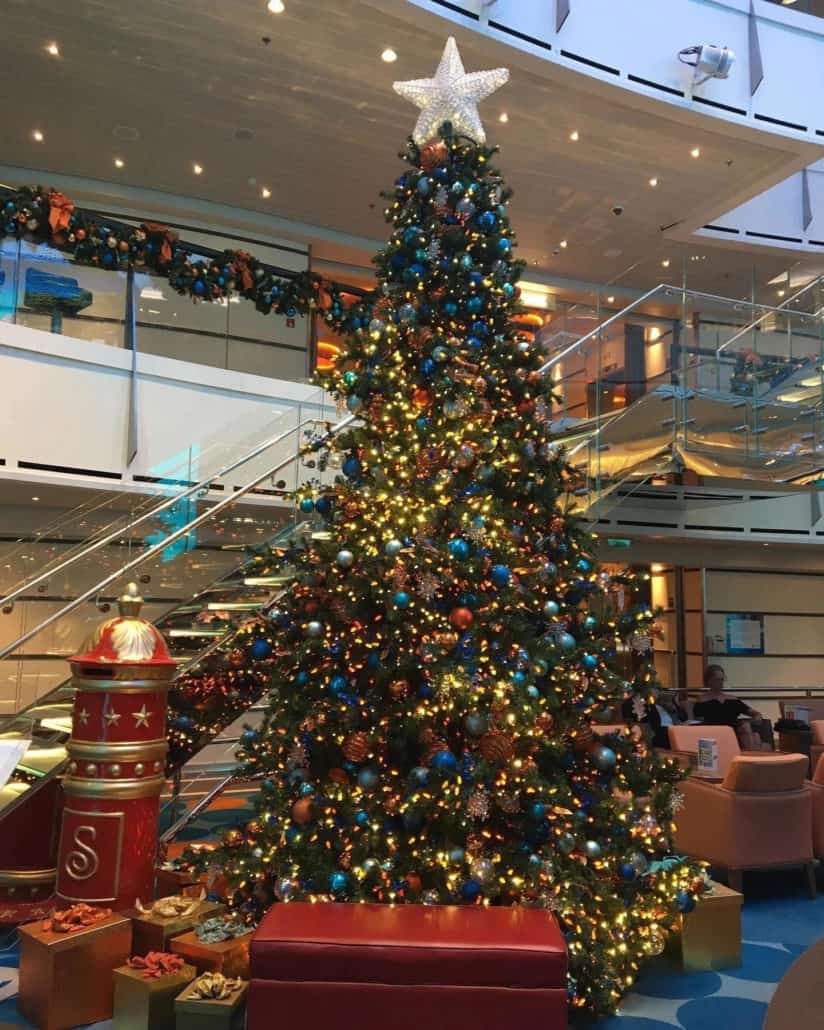 … there's another Christmas tree. And if you're thinking, "Meh, seen one tree, seen 'em all," then you really need to take a closer look.
Because while it's true that the trees around the ship all have the same general shape, the decorations on each are incredibly unique.
Among the biggest is the tree seen above, which graces the French Quarter zone hallway. It's a popular place for people to get their photo taken, especially on formal night. It's also where young ones can can drop off their letters to Santa. And yes, Virginia, even if you're on a ship when the big day arrives, he'll figure out how to get the presents to you!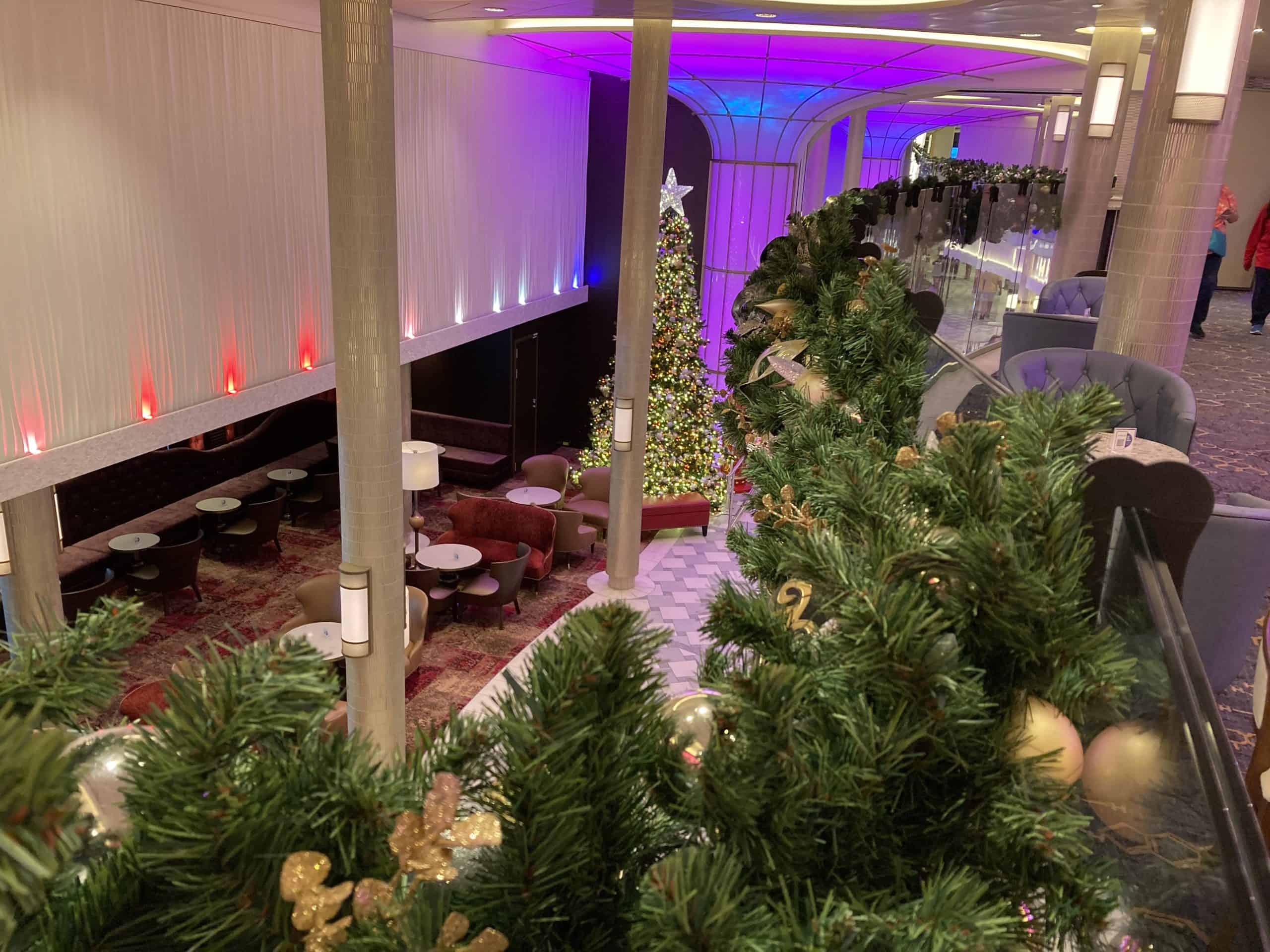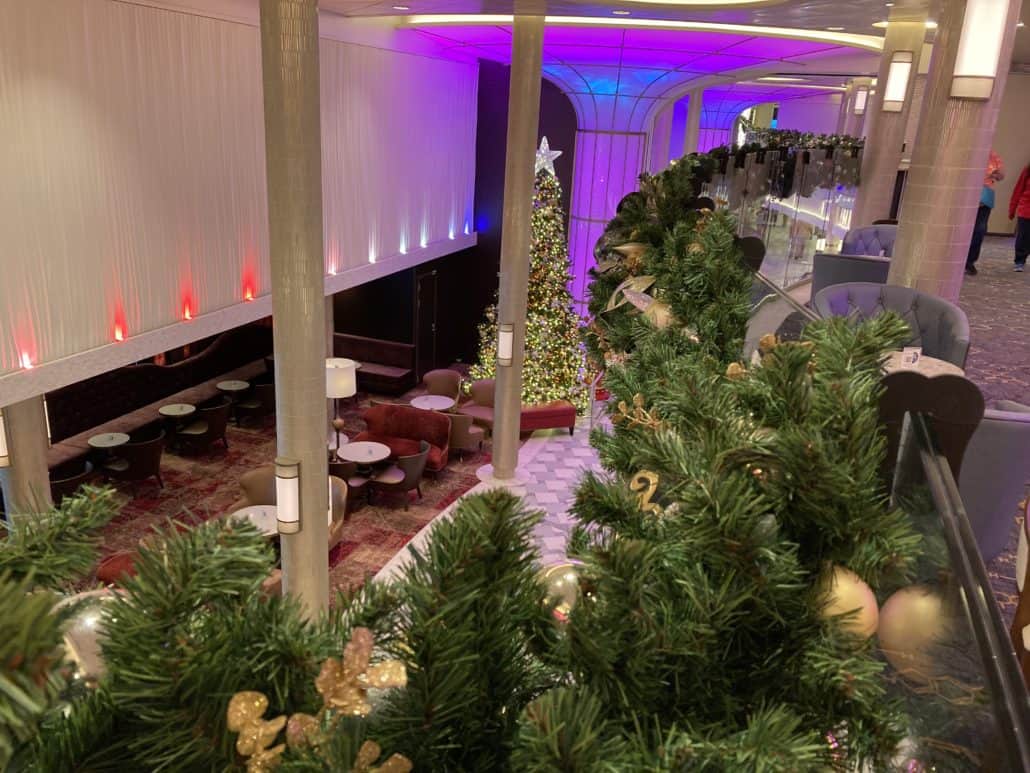 The tree can be viewed from several vantage points, including, as seen above, from the area surrounding the ever-popular Alchemy Bar. Continue wandering and you'll find trees around nearly every corner. And as we mentioned, each is distinct.
For example, the tree below is found in Piano Bar 88. Look closer, and you'll notice that the blue-and-gold decorations include a spattering of musical notes, perfect for its piano bar location.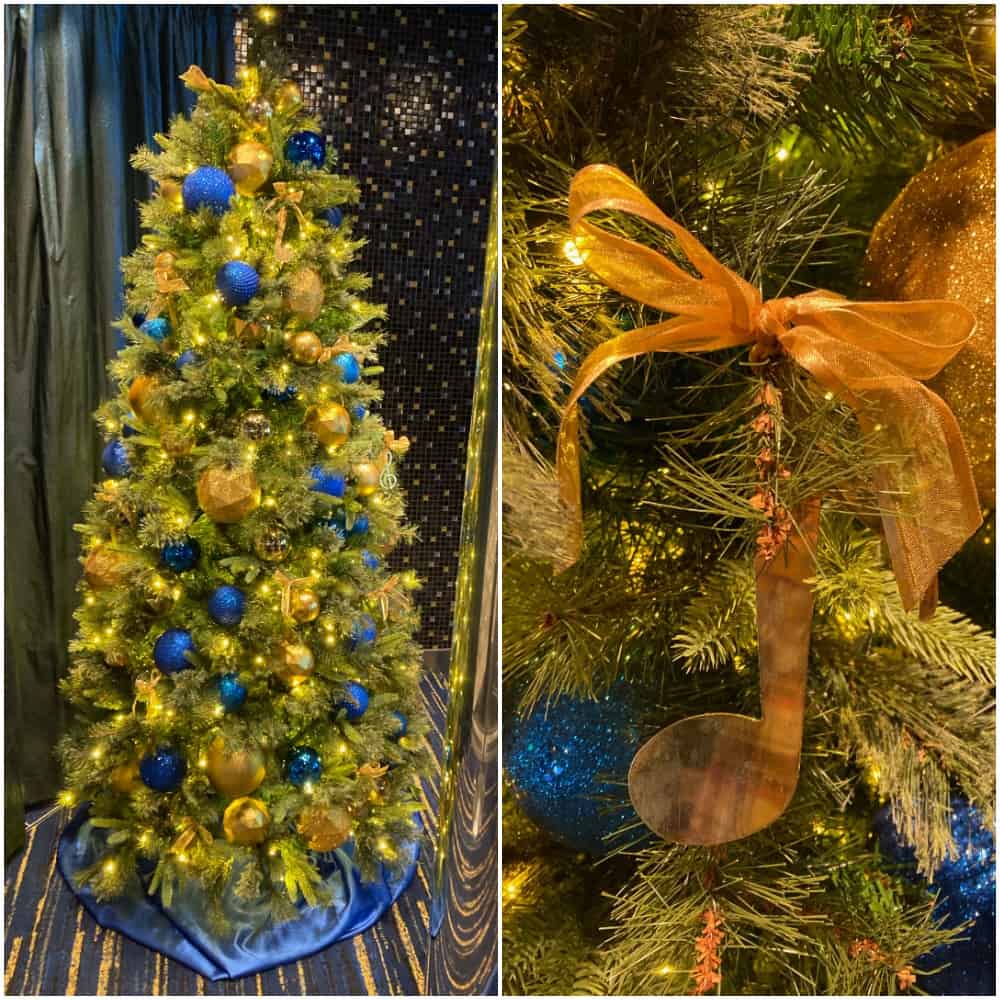 Next up, we swing by the Havana Bar — always a popular spot to dance the night away. And the tree found at the heart of the club features maracas like the ones you're more than likely to hear someone shaking on any given evening when the band gets going.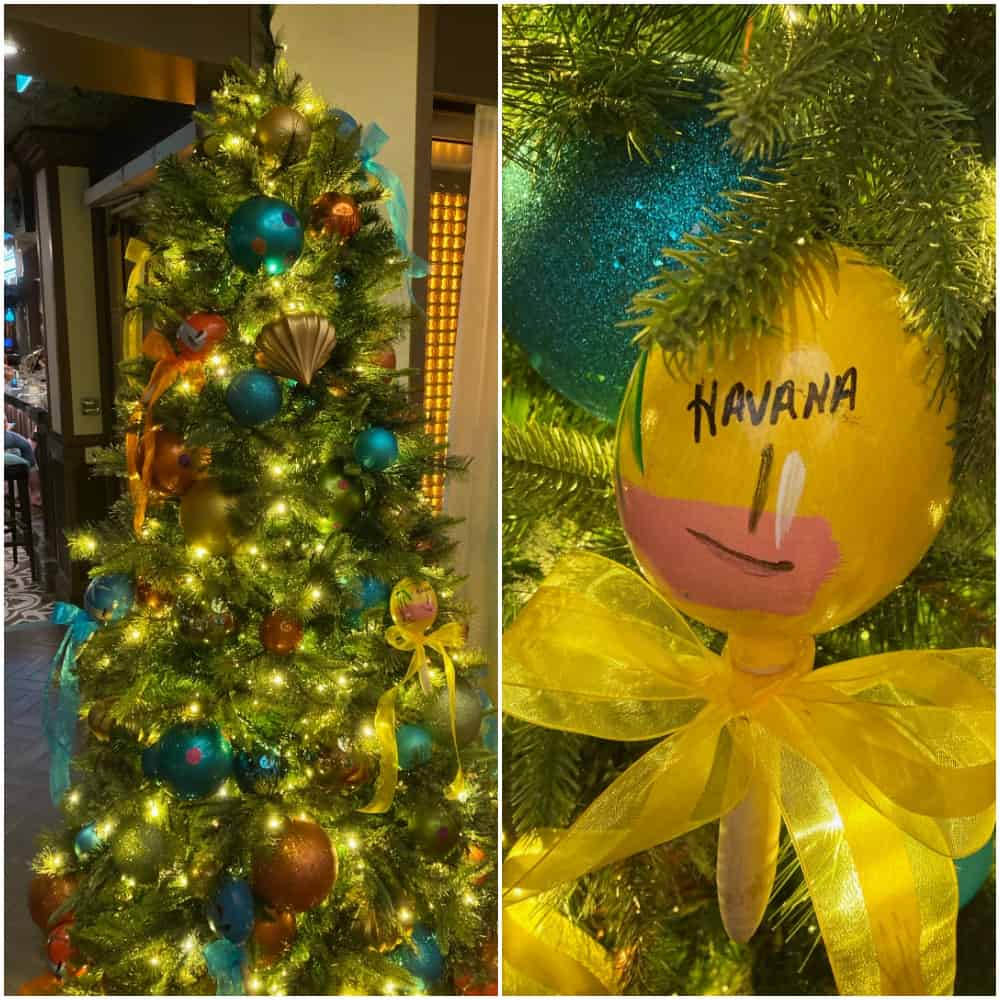 One of several new venues offered on Mardi Gras is Rudi's Seagrill, the seafood restaurant from celebrity chef Rudi Sodamin.
The tree which greets diners here takes an under-the-sea approach, with starfish and other aquatic creatures making a home in its branches.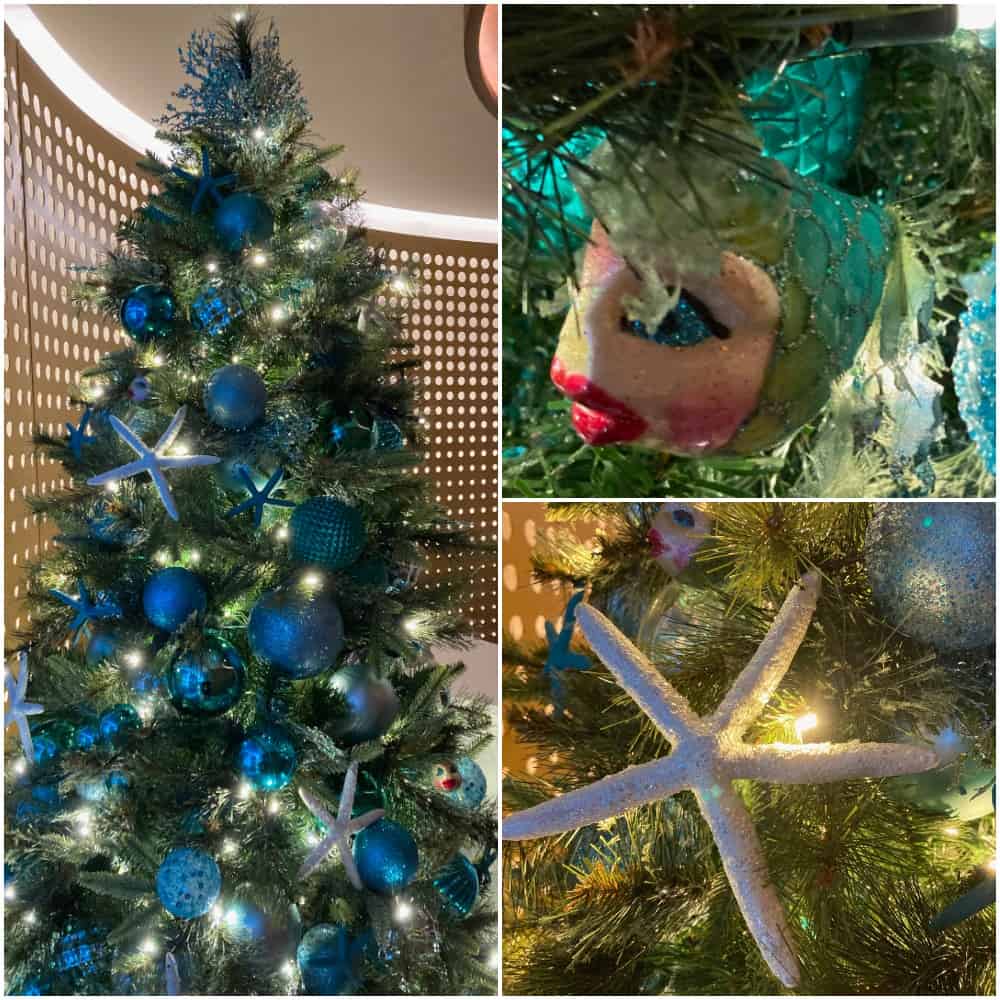 Outside Cucina del Capitano, Carnival Cruise Line's much-loved Italian venue, you'll find a tree which — not surprisingly — features Italian flags among its decorations.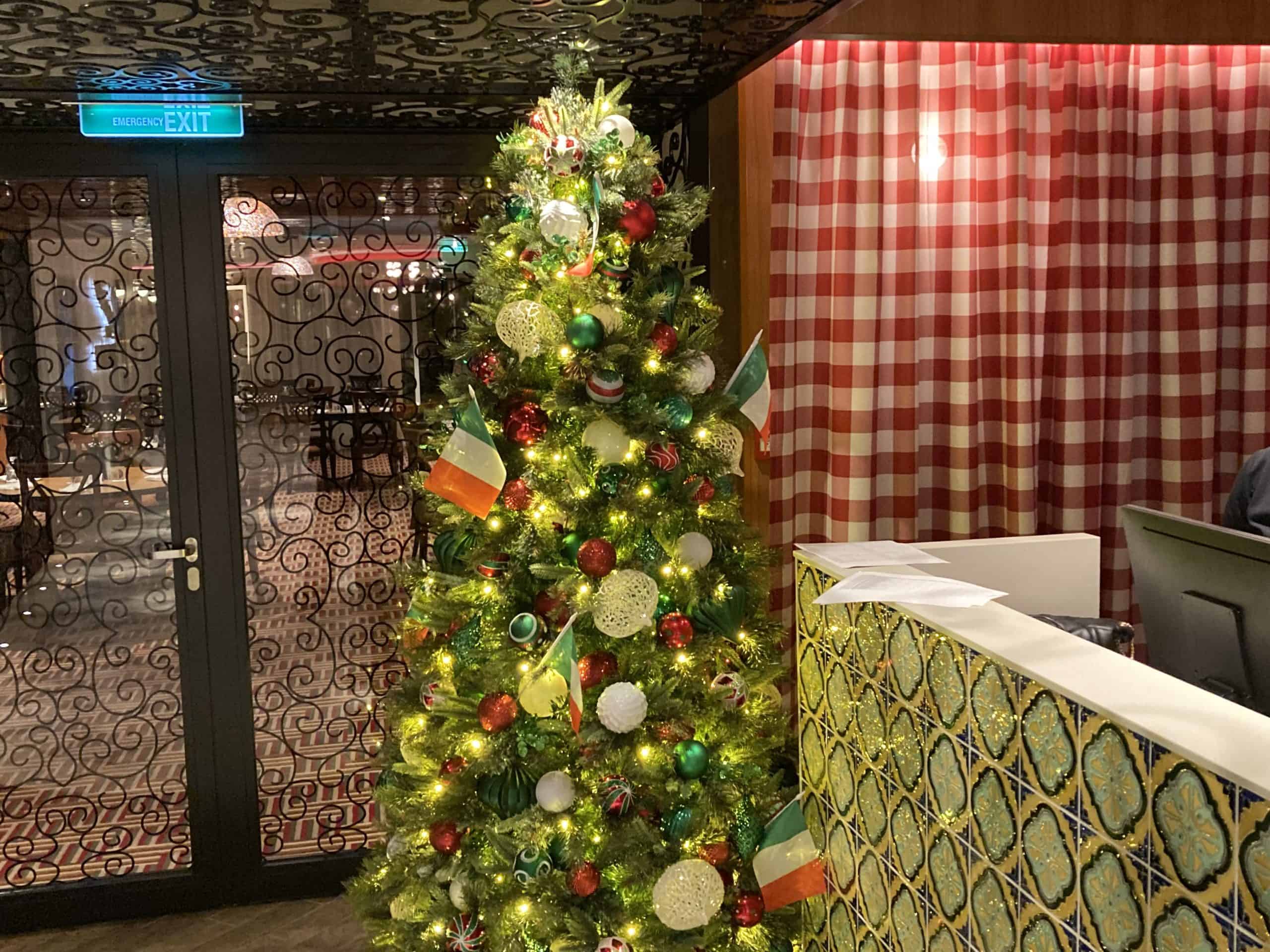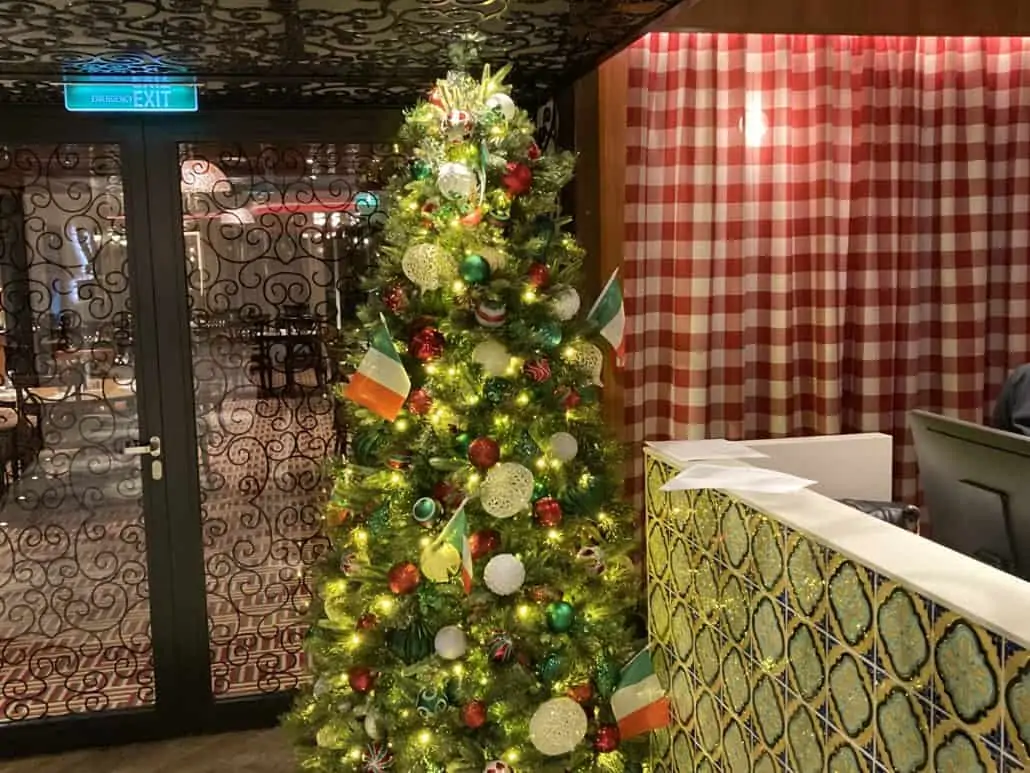 But lest you think the ship's holiday decorations are limited to trees, think again! Not far from Cucina's tree is… well, okay, another tree, but this one is strapped to the top of a classic Fiat.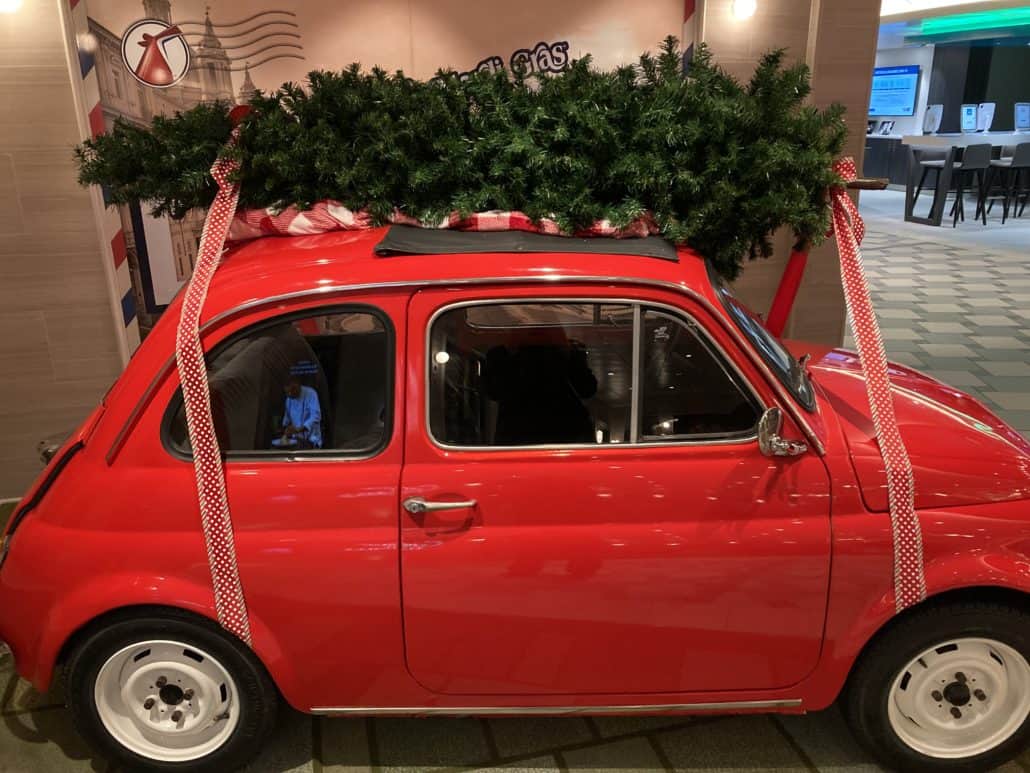 Some of the decorations are a bit less obvious, hiding, almost like those elves that keep popping up on shelves across the country.
For example, strolling through the French Quarter and past Emeril's, one might not immediately notice the cheeky addition to his bistro's logo.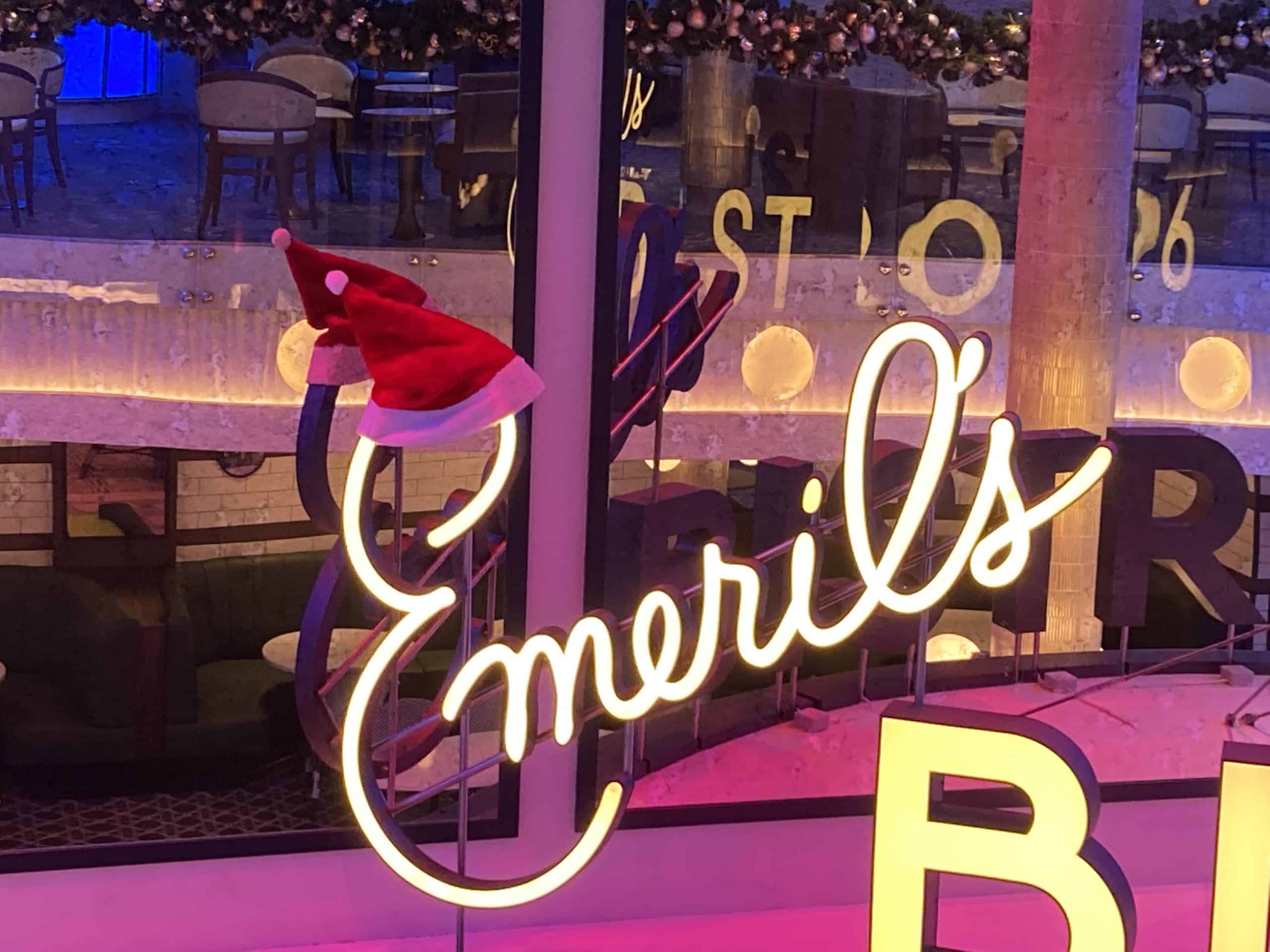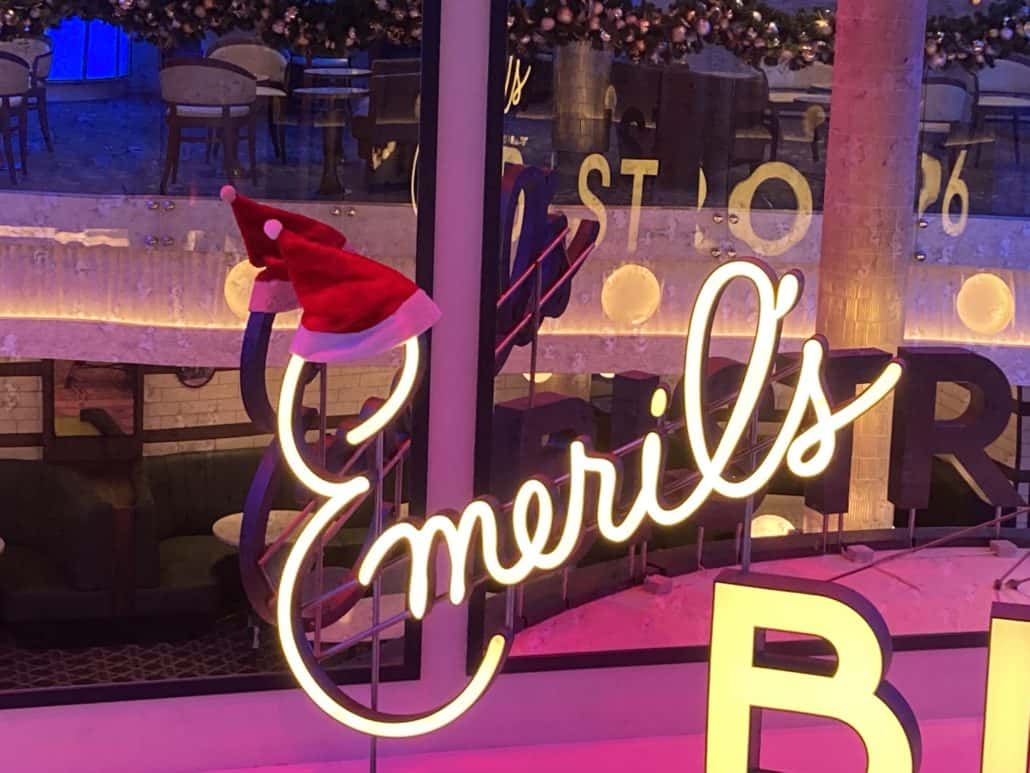 Some of the special decorations put in limited appearances, such as the display below, which joins the popular towel animal invasion of the lido deck. Sleep in, and this will likely be gone by the time you make your way to the pool!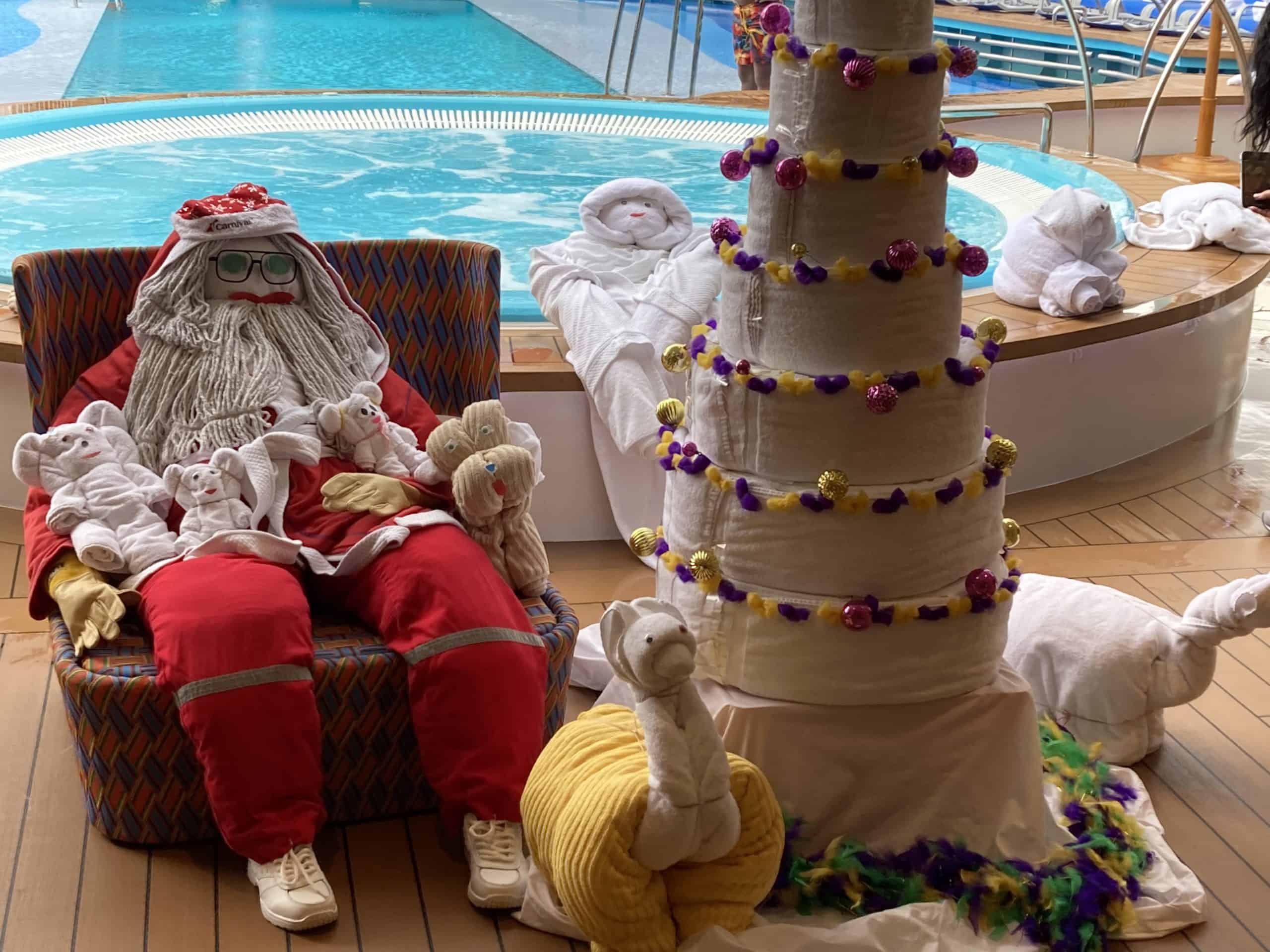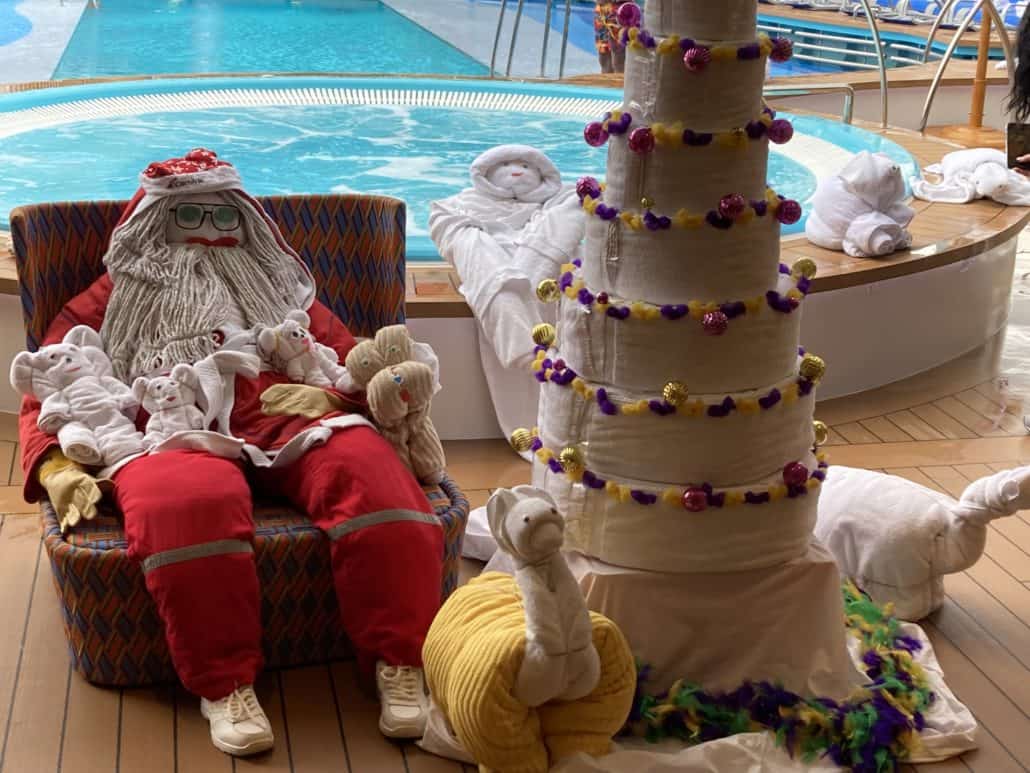 And because it wouldn't be Christmas without a gingerbread house or two, Mardi Gras has whipped up an entire gingerbread village!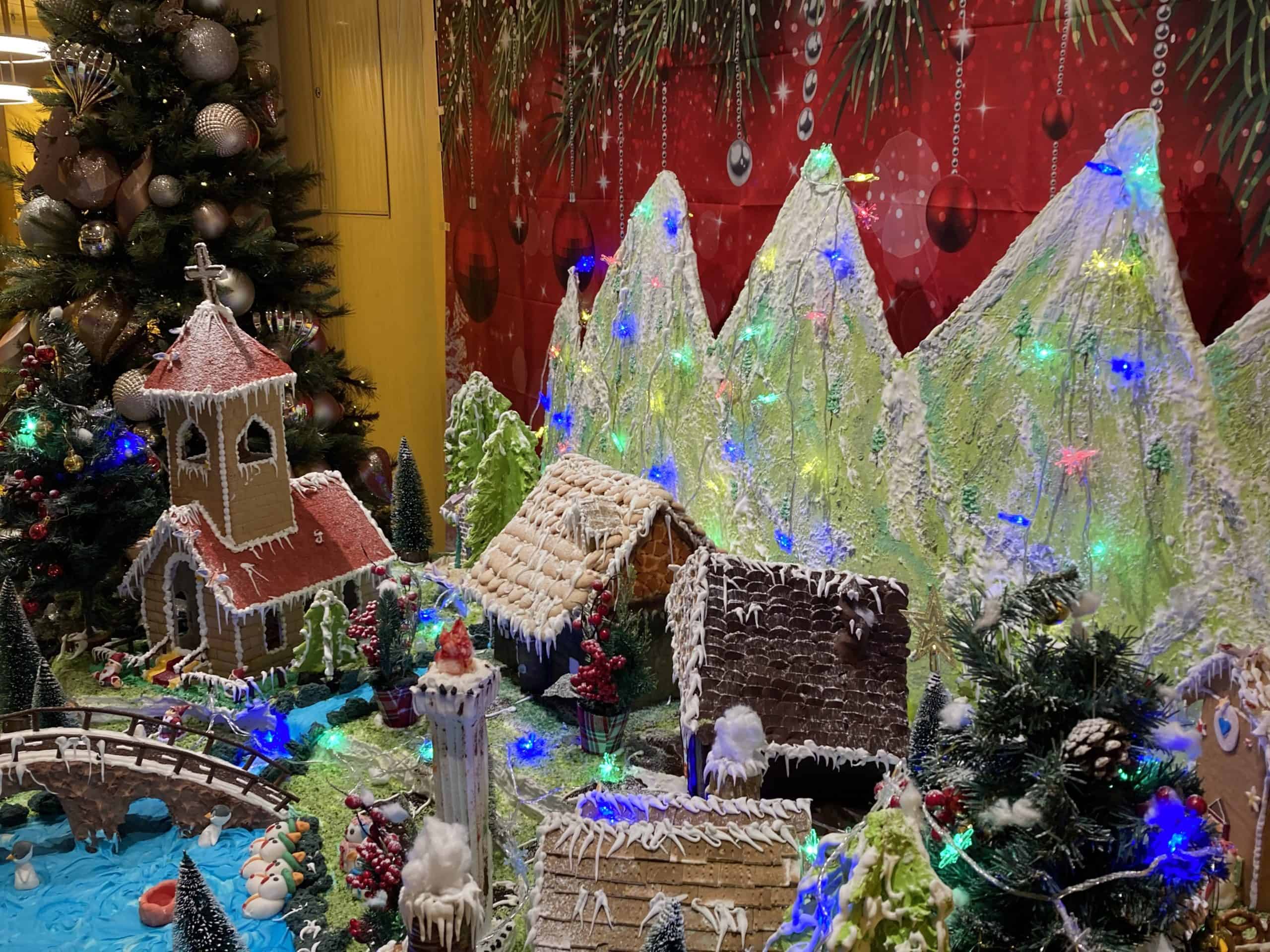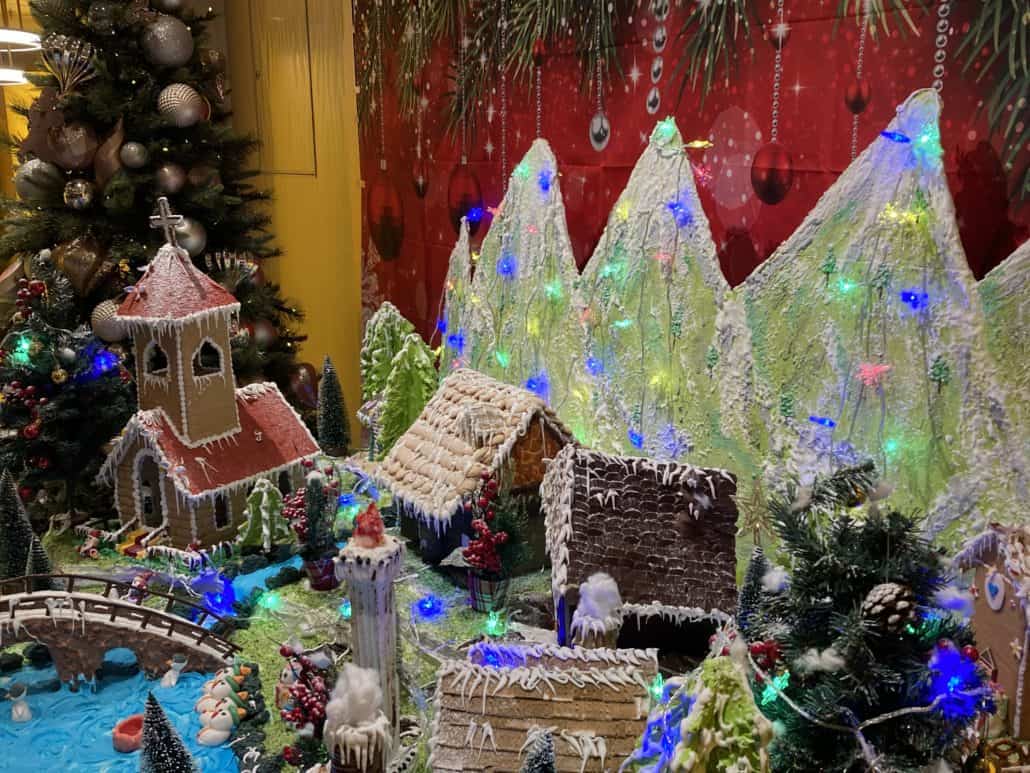 It's only fitting that a ship as special as this one goes all-out for the holidays. And we mean all-out. Think of a holiday-related activity, and you'll find it. Ugly sweater contest? Duh! A special scavenger hunt? Of course! And would it really be a Christmas cruise if bars around the ship didn't offer cocktails specially crafted for the season?
But be ready…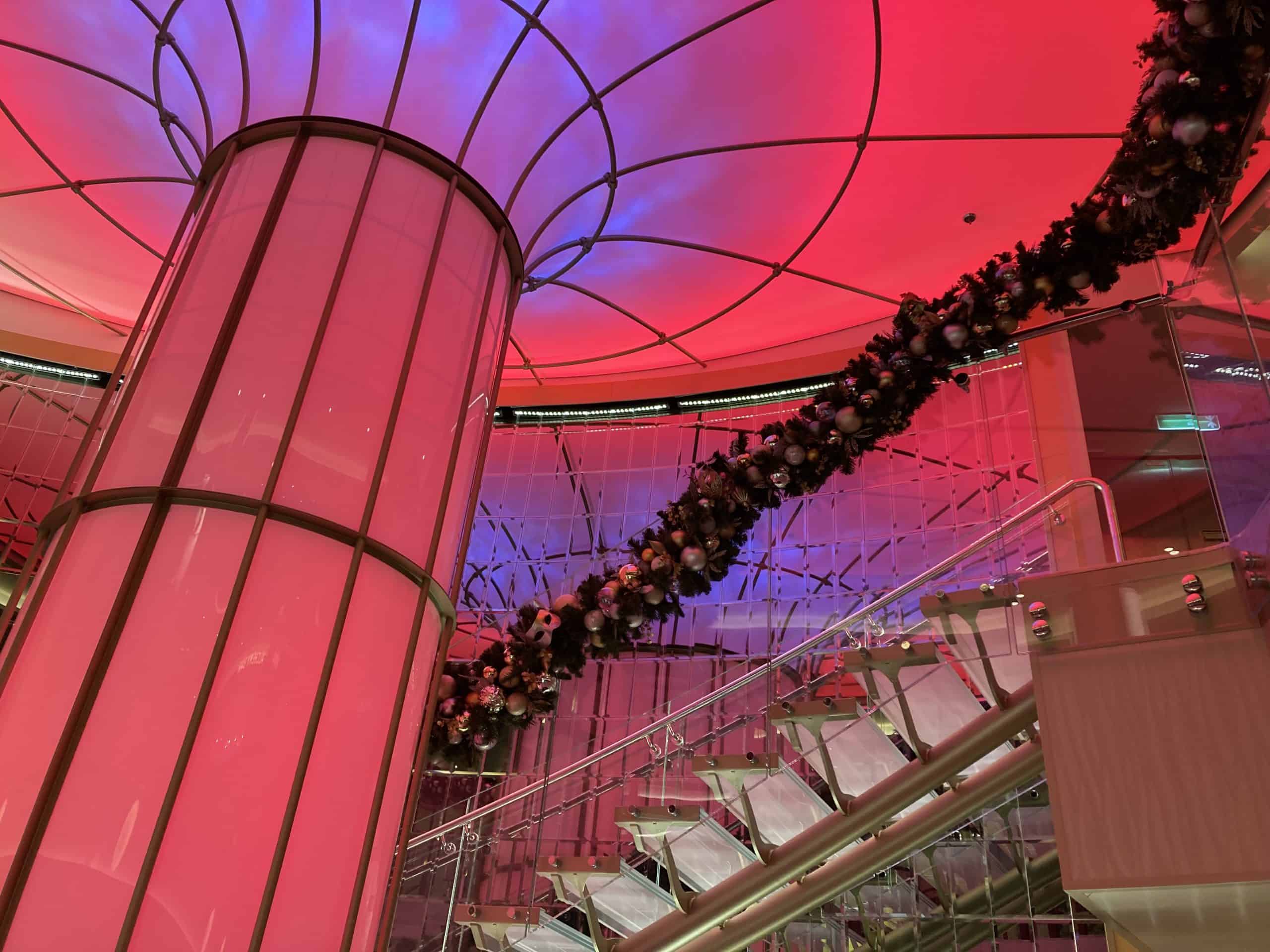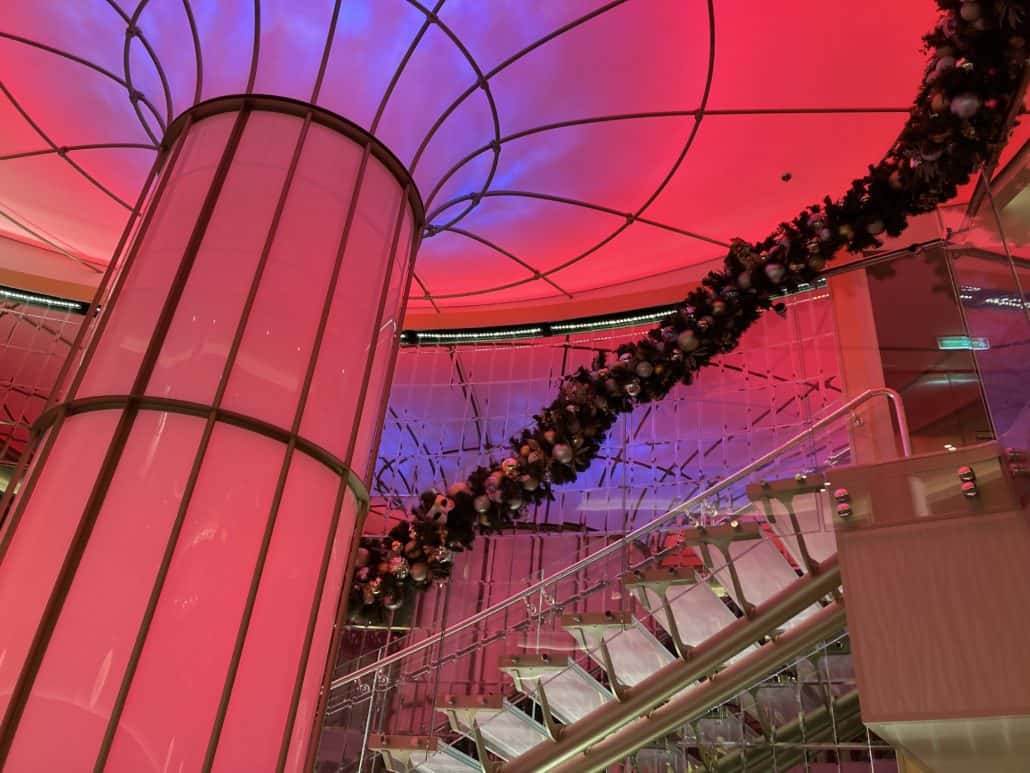 … because after spending a week onboard, you're going to want to up your own decorating budget upon arriving home in order to try and recreate the festive feeling you had while exploring Mardi Gras!