MENU: Piazza Panini on Carnival's Mardi Gras
One of the zones on Carnival Cruise Line's ship Mardi Gras is La Piazza, an Italian-themed area that includes Cucina Del Capitano, Pizzeria Del Capitano, Bar Della Rosa, and a counter-service sandwich shop called Piazza Panini.
If you're in the mood for a classic sandwich such as grilled ham and cheese or you're looking for a delicious pressed panini, this is the place to be. Best of all? It's complimentary.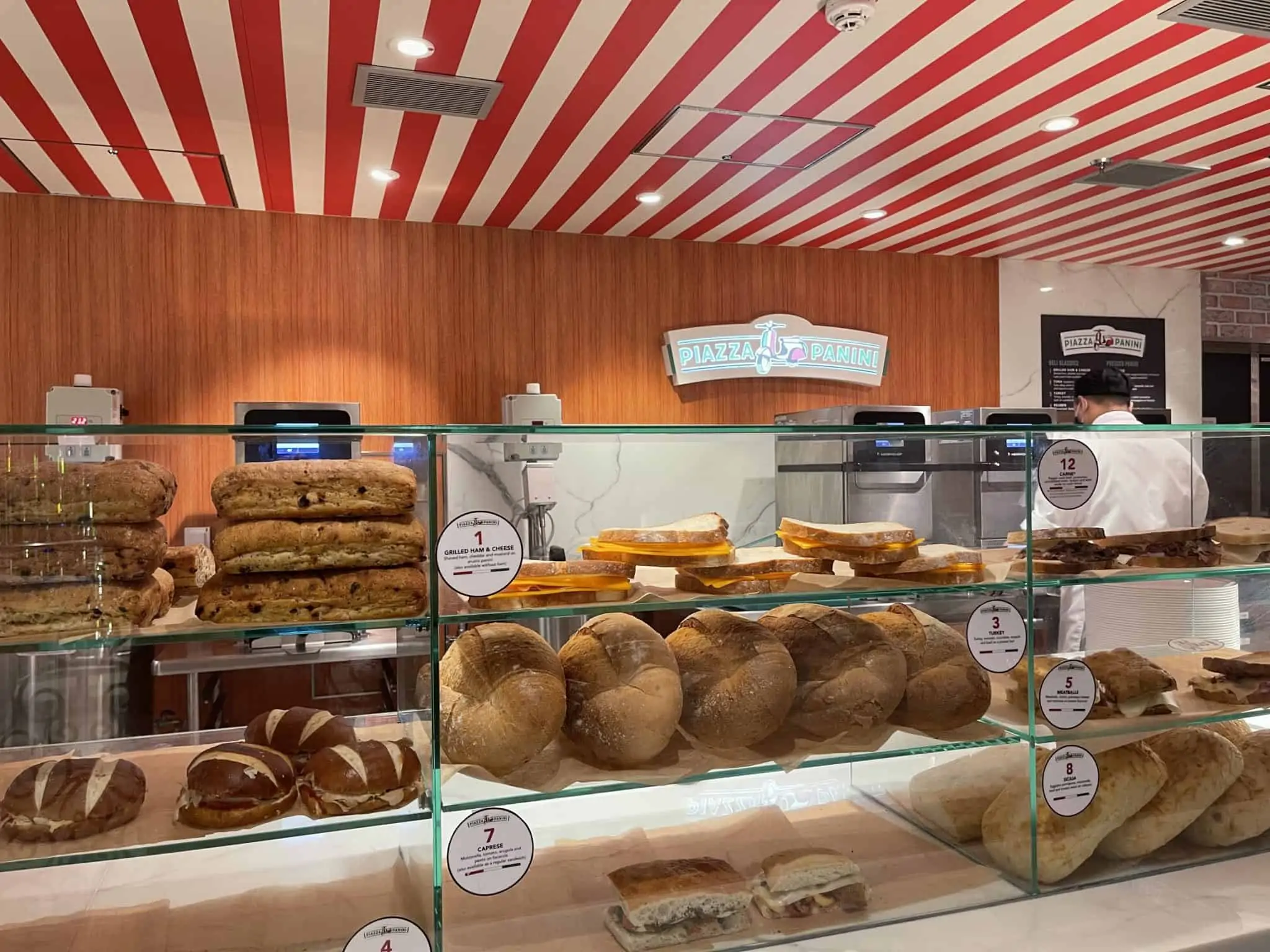 Here's the menu for Piazza Panini aboard Mardi Gras.
Deli Classics
Grilled Ham & Cheese — shaved ham, cheddar, and mustard on a rustic panini
Tuna (toasted or untoasted) — tuna, celery, onion, tomato, iceberg lettuce, and mayo on a rustic panini
Turkey — turkey, avocado, cucumber, arugula, and basil on a pretzel bun
Reuben — corned beef, Swiss cheese, and sauerkraut on rye bread
Meatballs — meatballs, ricotta, parmesan cheese, and marinara on tomato focaccia
Hot Dog — chili, onion, sauerkraut, and pickle relish
Pressed Panini
Caprese — mozzarella, tomato, arugula, and pesto on focaccia (also available as a regular sandwich)
Sicilia — eggplant parmigiana, mozzarella, basil, and tomato sauce on ciabatta
Salumeria — capicola, prosciutto, salami, provolone, mozzarella, and roasted peppers on focaccia
Americano — herb grilled chicken, tomato, provolone, mozzarella, peperoncini, and olive oil on ciabatta
Peppe — mortadella, provolone, mozzarella, tomato, and spicy olives on sourdough bread
Carne — pepper roast beef, provolone, caramelized onion, tomato, and salsa verde on rustic bread
Desserts (available after 8 pm)
Strawberry cannoli cream, chocolate chip
Roasted banana, honey, and peanut butter
Nutella, fig, and fresh mozzarella made on board
READ NEXT: Photos: 13 Restaurants on Carnival's Mardi Gras
Pin it!