The Cruise Line-Approved At-Home COVID Test: We Tried It
Some cruise lines are now allowing guests to take Abbott's at-home COVID-19 antigen test to satisfy their pre-cruise testing requirement.
Why Pre-Cruise Testing is Being Done
Effective September 13, the latest Conditional Sailing Order update from the Centers for Disease Control recommends that all cruise guests to be tested within two days of sailing; previously, it was three days.
While the CDC's various guidelines are now "recommendations" as opposed to requirements, most cruise lines are abiding by them in order to provide their guests the safest experience possible.
Many guests found it difficult to meet the new requirement within the 48-hour window, while ultimately led to the cruise lines deciding to accept certain types of home tests done under supervision.
READ: Cruise Lines Tighten Pre-Cruise Testing Window
However, the testing has received mixed reviews in some quarters, from slow shipping (even when supposedly expedited) to waiting up to six hours for a virtual health representative to become available to supervise the test as required.
If you'd like to see an overview of the testing process, you can read it here. Then, read on for my personal experience with the test.
Ordering the Abbott BinaxNow Test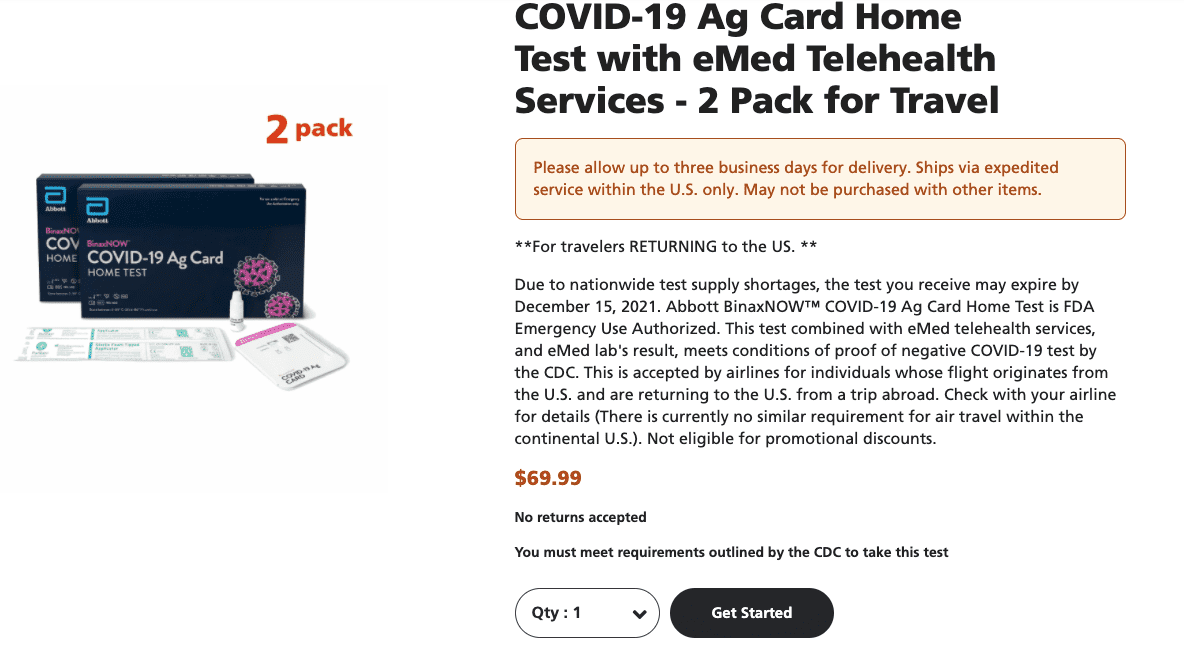 Ordering the test was easy. I went with the two-test package for $69.99 from the Optum website.
It's essential to make sure that the test you ordered is accepted by the cruise line you intend to sail on. The last thing you want is to get to the pier, find out otherwise, and be denied boarding.
After answering a few standard questions — name, date of birth, any symptoms I might be experiencing, and if I was using it for international travel or a cruise — I was able to proceed.
It is important to answer the question that you're using the antigen test for an upcoming cruise to ensure you get the proper verification for embarkation day.
Receiving the At-Home Test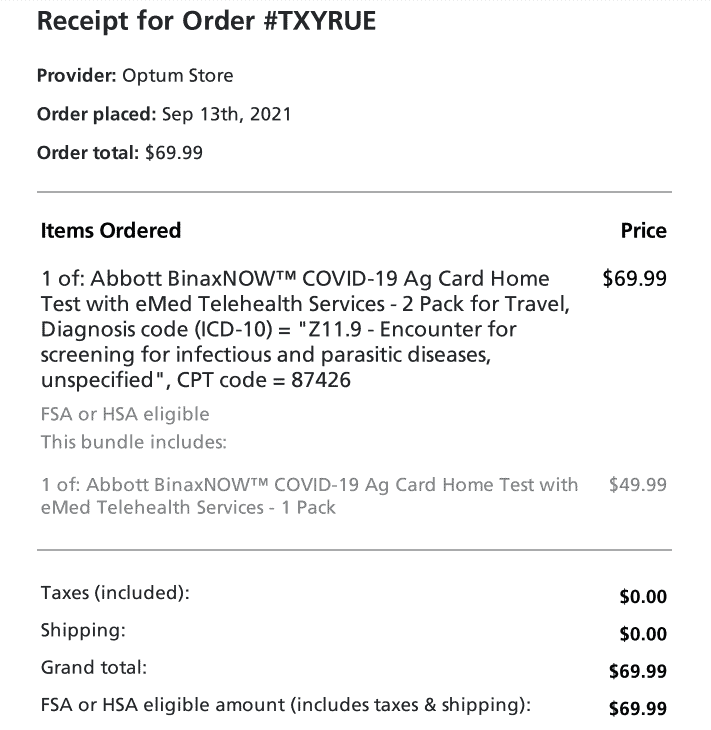 The test was delivered to me two days later at my office via FedEx. Since I was cruising in two days, I took the test immediately after lunch.
The package was shipped from Hayward, CA and I'm in Jacksonville, FL, so the timing on the shipping was impressive, especially since I wasn't paying for shipping.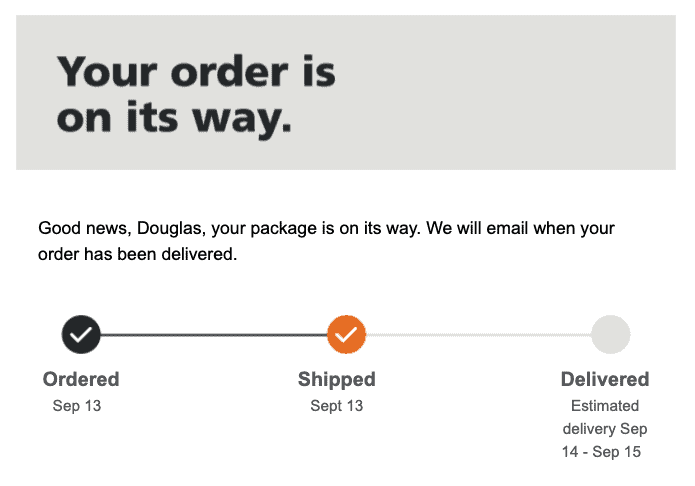 When I opened the external packaging, I saw a big red sticker that says DO NOT OPEN. That's because a representative has to watch you take the test to make sure you are doing it correctly and there isn't any funny business going on.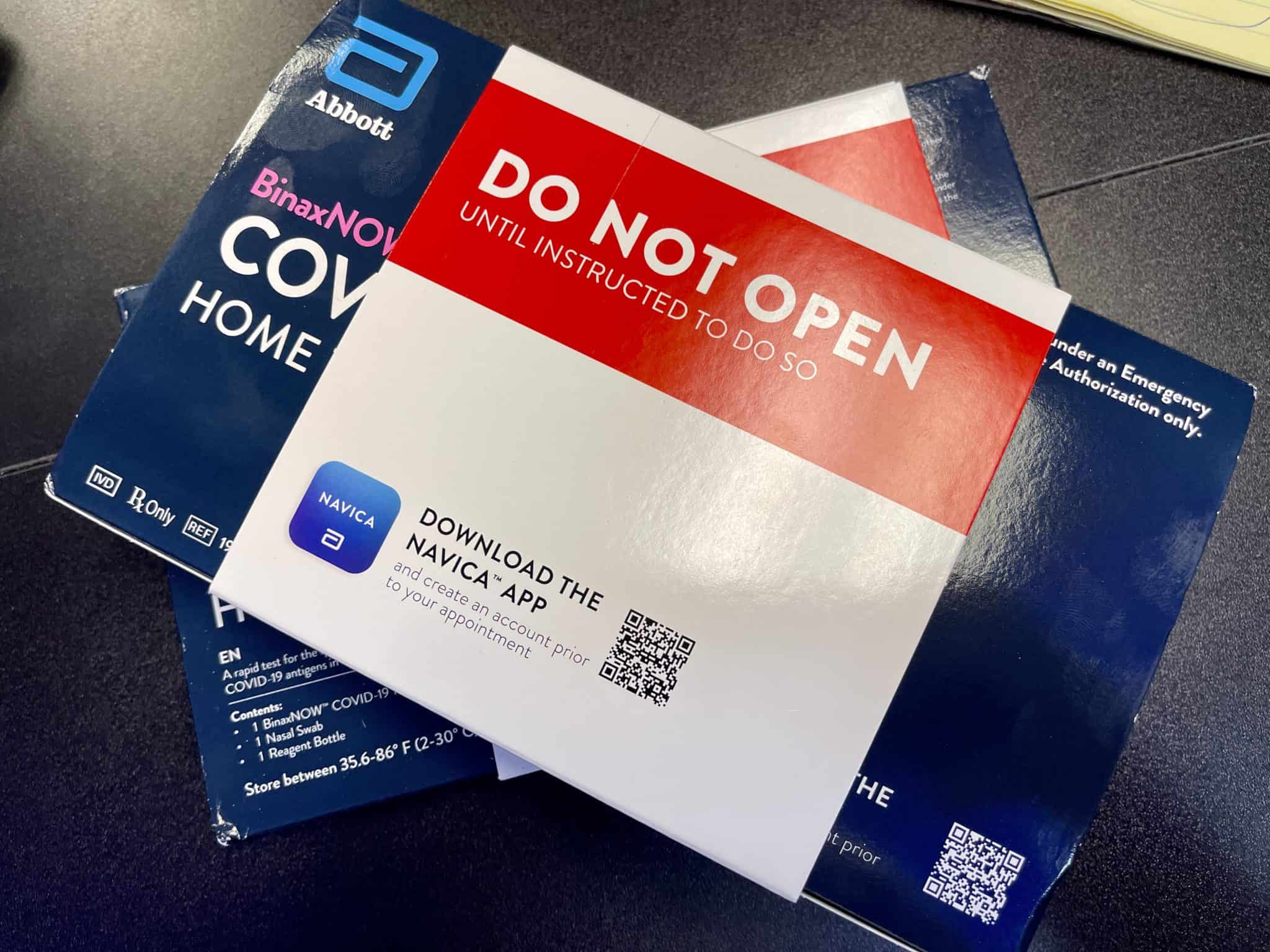 Right on the front of the box, it says to download the Navica app and create an account before making your testing appointment.
For security reasons, you only have to enter your basic information on the app, like your full name, address, date of birth, and phone number. It also lets you know that you'll need to show the representative a form of identification when you go to take the test.
Connecting With a Testing Guide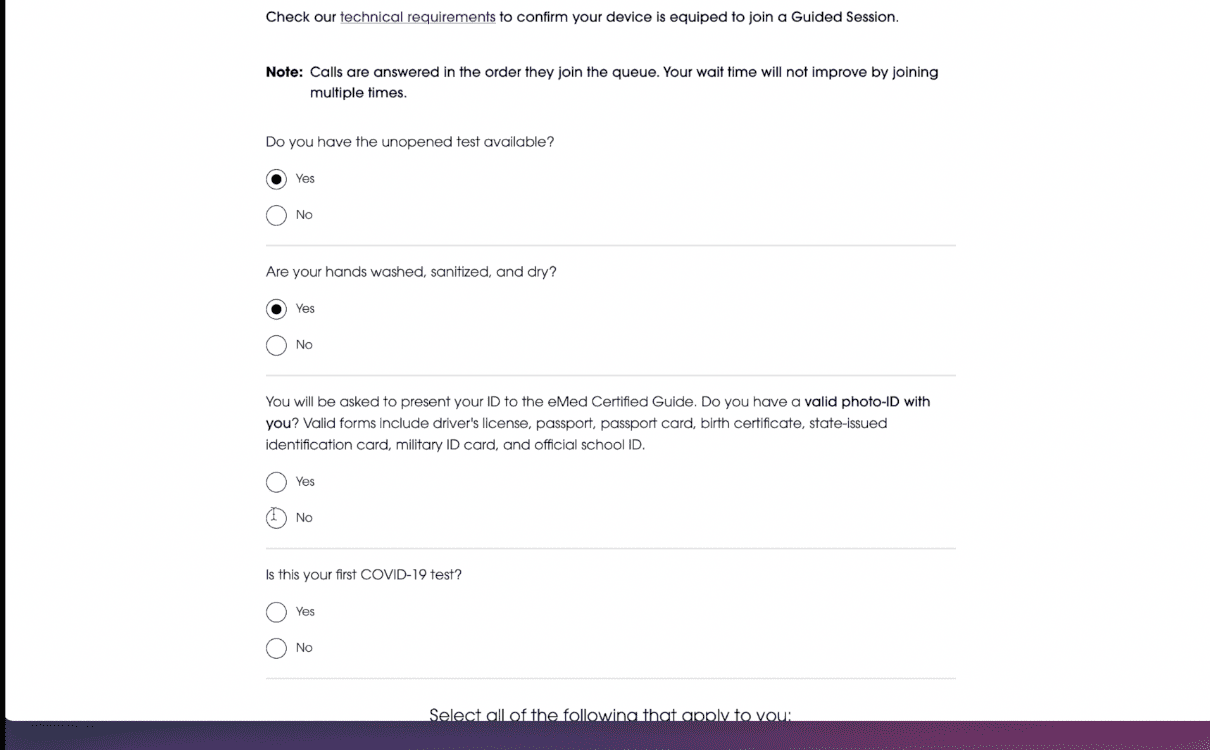 I was most interested in this step because I've been receiving listener emails saying there have been holding times up to several hours before they were able to connect with a representative and begin testing.
Being in the studio all day, I had all the time in the world, so I dialed them up. Before speaking to someone,  I had to answer a few questions about why I was taking the test, if I'd taken a test recently or ever had COVID, and confirming I had an unopened test in front of me.
Before they put me in the queue with someone, my system did a few checks to make sure that my audio output, audio input, video, and the network were all up to speed.
After that, I got the connecting screen, following by the words, "You're up next!"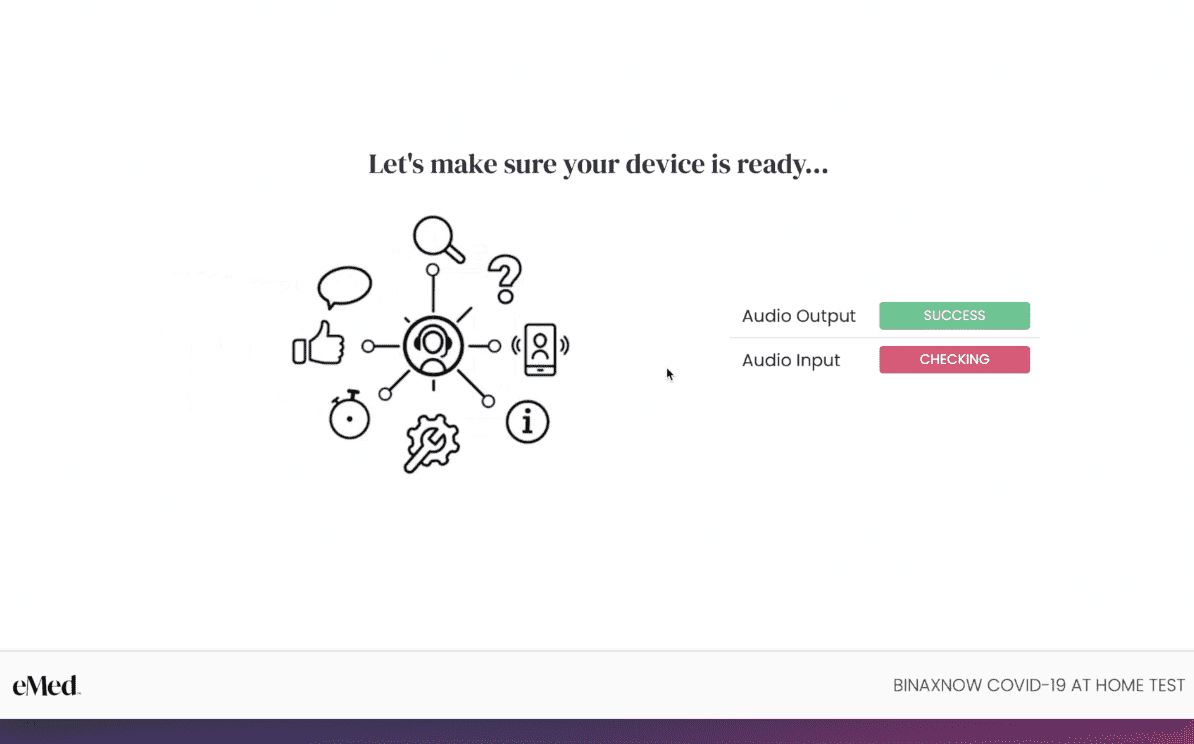 After connecting with the representative, I had to verify that it was me by giving them my name and date of birth and showing them my driver's license to verify my identity.
Everything they ask you to do is displayed on the screen in case there are any audio issues or you have trouble understanding what they are saying.
Because the test said DO NOT OPEN across the front, I had to the put laptop screen into a position where they could verify I had a sealed test. From there, we started opening the test.
Not going to lie, even though I was not required to take this test to sail Disney because they test at the pier, my nerves were still rattled!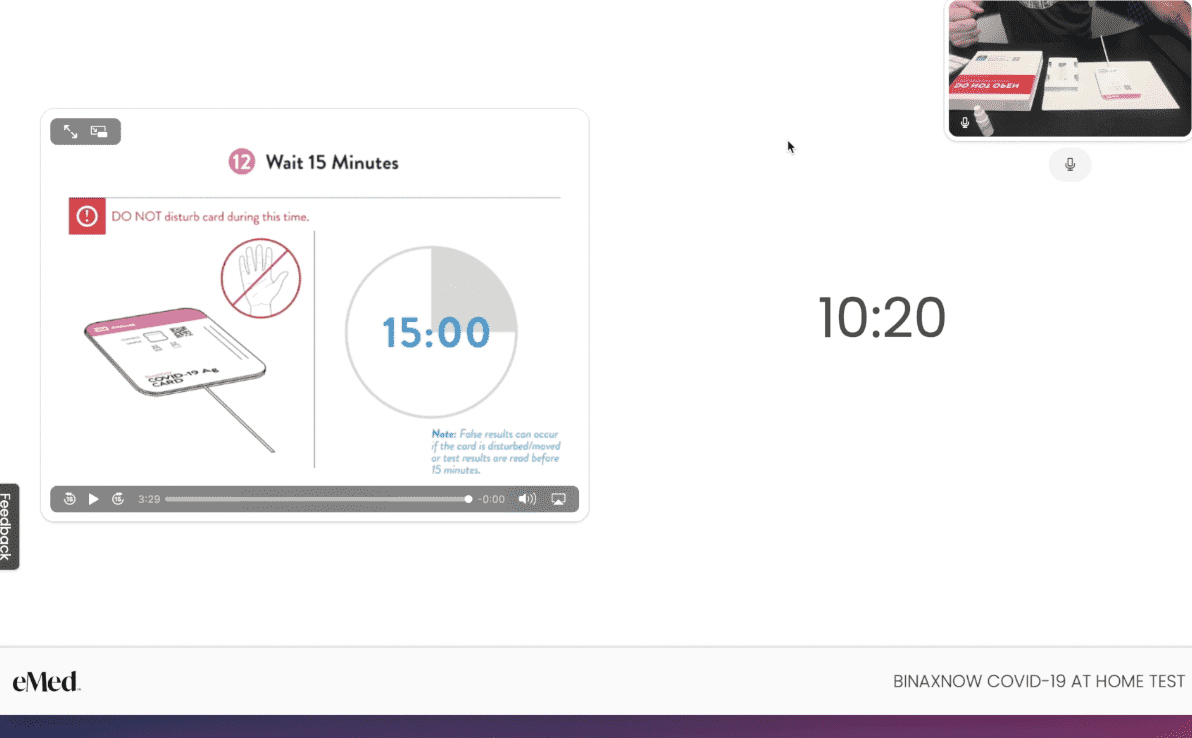 Inside the box was my testing kit that included a test card, a little bottle of solution, and a cotton swab.
Before we got started with the test, I had to hold my test up to the camera so that eMed's rep could verify the box on their end by scanning a QR code.
Keeping the camera angled down, I had to open the test as directed. I then dropped the solution into the testing hole and swabbed the inside of each nostril before inserting the swab into the testing kit and turning the swab three times. Then came the fun part: Waiting 15 minutes or so for the results.
The rep started a timer on her end and told me to make sure that I was in front of the camera by the end of the 15 minutes so someone on the certification team could verify my results and send the code to my phone.
After the 15 minutes was up, I told them I was ready to connect with someone, within a minute, I verified my results via camera to a certified guide.
The test was straightforward to read: one pink line meant a negative result, while two pink lines meant a positive result.
After verifying my results were negative, the guide sent both an email and an alert to my iPhone letting me know that I could see my results on their dashboard or on the NAVICA app.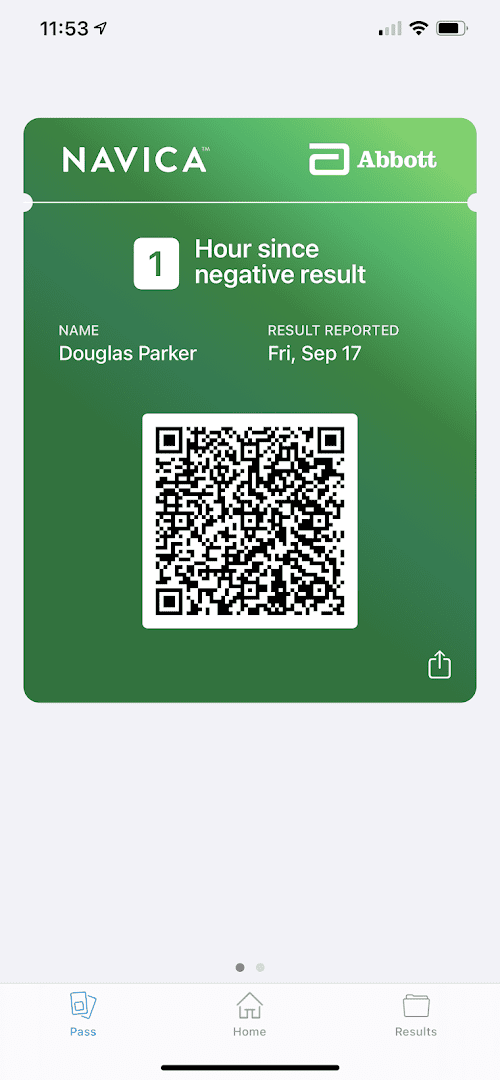 If you want to double-check the result, you can always take the test again.
Final Thoughts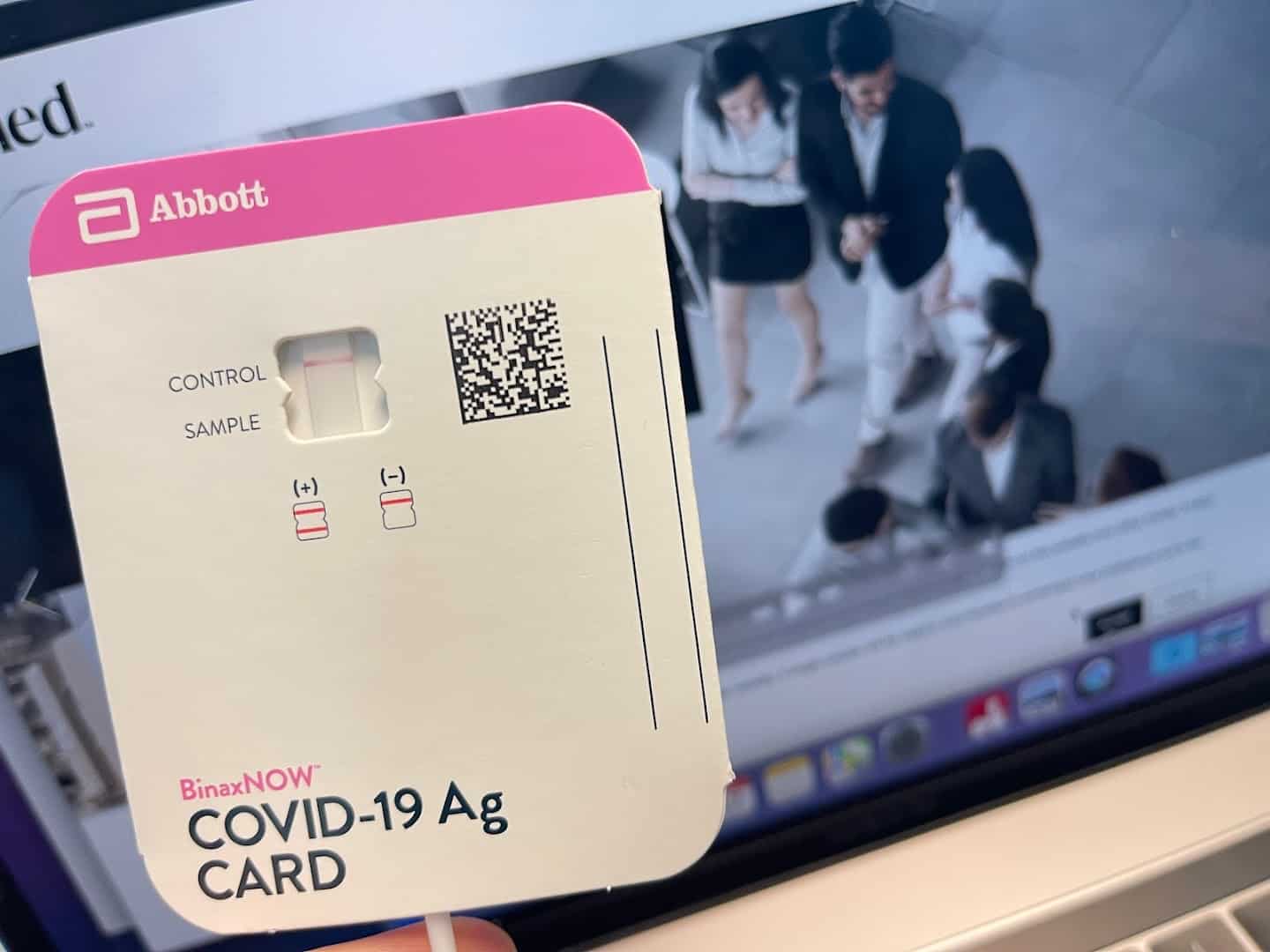 First off, order this test early, but not too early. These tests have an expiration date on them so I personally wouldn't order them more than a month before my sail date.
I got my test kit two business days after ordering it, having placed the order on a Monday afternoon and it arriving on a Wednesday morning. If I'd needed the test to board a cruise, however, I would want to order in advance in case there were any unforeseen delays in shipping.
This test is perfect if someone isn't comfortable with the turnaround time that your local CVS or Walgreens has. As of late September here in Jacksonville, it's up to 72 hours to get a test result. That does no good if you need a test within 48 hours before embarking your cruise.
Most cruise lines have links to approved testing kits on their website, eliminating all guesswork and assures you have exactly what you need to board. While guests can purchase kits from other sources, they need to be very careful that the kit purchased meets all of the requirements put in place by the cruise line.
My overall experience was impressive, and I will take the test again before cruising. In fact, I'm taking it again shortly before heading to a conference in South Florida.